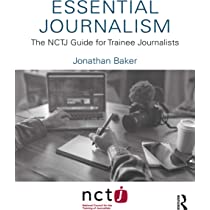 Essential Journalism
£30.99
This book is a practical guide to all aspects of modern journalism for anyone seeking to study for the NCTJ Diploma in Journalism and become a qualified journalist in the UK.
Essential Journalism outlines everything you need to know about the journalism industry today, from its ethical framework to its practice across print, television, radio, online and social media.
It looks at the core principles and the skills that are required of journalists across all platforms, helping students develop an overall understanding of the business and examining the application and adaptation of traditional best practice to the demands of the digital age.
The title is a unique one-stop shop for anyone who wants to understand the nature and purpose of journalism, and how it is changing and evolving in today's digital newsrooms.
Additional information
| | |
| --- | --- |
| Weight | 855 g |
| Dimensions | 33 × 24 × 3 cm |