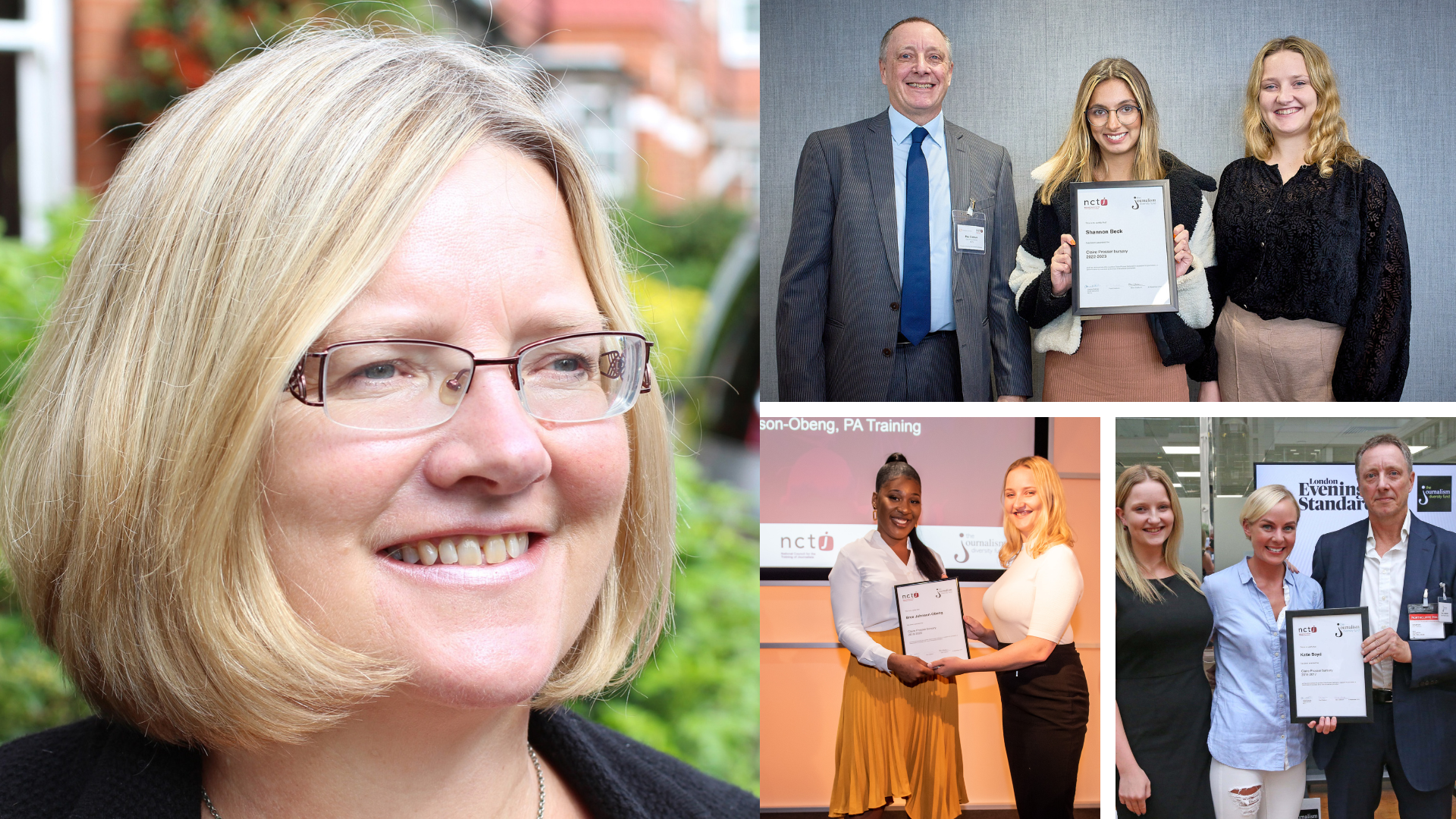 NCTJ celebrates successes of Claire Prosser bursary as it closes
The NCTJ is celebrating the success of a specialist Journalism Diversity Fund bursary dedicated to the late Claire Prosser as it draws to an end.
The NCTJ is celebrating the success of a specialist Journalism Diversity Fund bursary dedicated to the late Claire Prosser as it draws to an end.
Claire, a founder and former director of the BBC Journalism Trainee Scheme, championed bringing diverse talent into BBC News.
She died suddenly in 2014 and the following year her contribution was recognised when she posthumously received the European Diversity Awards' Lifetime Achievement accolade.
The NCTJ partnered with Claire's widower Paul Clabburn and her daughter Ellen Clabburn for the bursary, and it has been awarded to eight aspiring broadcast or digital journalists every year since 2016.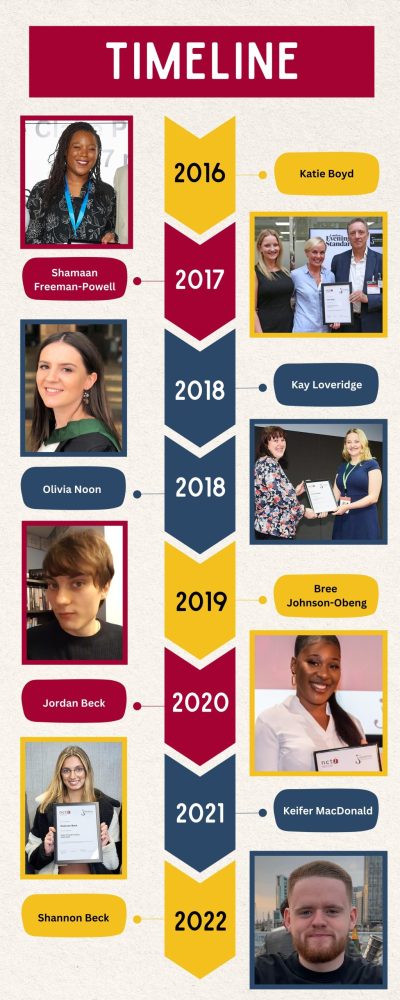 Paul, who met Claire in 1978 while both were studying for their NCTJ qualifications at the then-Harlow Technical College, said: "Having never been involved with anything like it, I had no idea what to expect when we started the bursary.
"But it's been brilliant."
The winners, listed below, received a minimum £5,000 contribution to their funding and work experience opportunities at BBC News, Press Association and, initially, Wire Free Productions.
"When looking through applications with Ellen, we talked about what Claire would do, which is not expect people to have a massive amount of qualifications or experience, but to show enthusiasm and talent.
"We also looked for how they came across in terms of work ethic and their willingness to learn and we thought that applied to all that we chose.  If being awarded the bursary has helped in any way, then it's a job done."
He added: "I'm still in close contact with some of the recipients and that's lovely."
Paul thanked those who helped make the bursary placements possible, including Pete Clifton, PA editor-in-chief; Danny Morrisey, BBC senior editorial portfolio manager (apprenticeship and trainee schemes); and Husain Husaini of the former independent production company, Wire Free Productions.
He also thanked Ruth Akins, who worked closely with Claire at the BBC and played a crucial role in organising the BBC placements.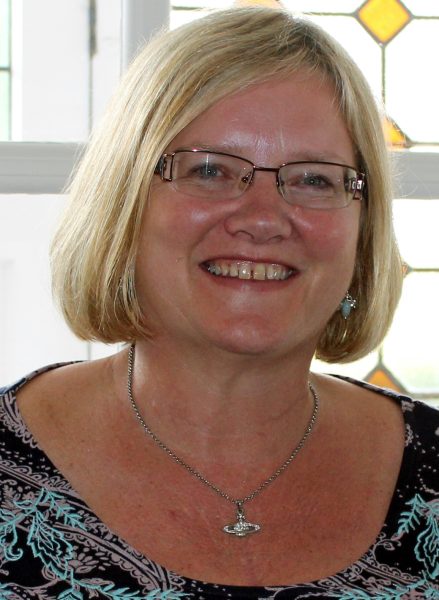 Claire began her career as a journalist with the Surrey Herald in 1978, later gaining her pre-entry qualification at the Harlow college.
Initially joining BBC Ceefax in 1985, Claire moved to BBC Radio 4 before returning to Ceefax as its editor.
She was an output editor at BBC Radio 5 Live when it launched.
Many years later, Claire became the first director of the BBC's Journalism Trainee Scheme, with a brief to unearth new talent from different communities or backgrounds.
Announcing the bursary in 2016 at a JDF celebratory lunch – which has since grown to become the NCTJ's annual Equality, Diversity and Inclusion Conference – Ellen spoke about her mum.
She told the audience: "I remember my mum as a journalist – someone who was incredibly hard working, but who was always there to offer her colleagues and particularly her trainees words of encouragement, a friendly smile or a listening ear for some juicy gossip. And that's how she was in her personal life too.
"So we wanted to do something that reflected her approach to life and a bursary seemed a very good way of doing that."
The JDF awards bursaries to people from diverse backgrounds who need help funding their NCTJ journalism training.
Since it was set up in 2005, the JDF has awarded more than 500 bursaries.
The scheme is open to people studying for the Diploma in Journalism either as a standalone qualification or as part of a master's degree course.
Since 2018, in addition to the financial support they receive, all JDF recipients have been paired with a working journalist to mentor them during their studies.
Specialist JDF bursaries include the Thomas Read bursary for a student who has a disability or long-term mental health problem, the Aziz Foundation bursary for those who are Muslim, and the Football Writers' Association bursary for applicants wishing to pursue sports journalism.
Nikki Akinola, the NCTJ's senior diversity and inclusion co-ordinator, said: "We've heard Claire was an inspirational person who was passionate about helping budding journalists kickstart their careers.
"Over the years, the Claire Prosser bursary has made an invaluable contribution to the JDF, enabling talented journalists to pursue broadcast or digital reporting.
"The bursary has been a great tribute to Claire and her legacy, and we are proud to have partnered with Paul and Ellen on the initiative.
"We would like to thank them for their work and support on this brilliant project."
The next deadline to apply for the JDF is Wednesday, 1 November 2023.
Find out more about the JDF here.
Claire Prosser bursary winners

2022 – Shannon Beck
2021 – Keifer MacDonald
2020 – Jordan Beck
2019 – Bree Johnson-Obeng
2018 – Kay Loveridge/Olivia Noon
2017 – Shamaan Freeman-Powell
2016 – Katie Boyd