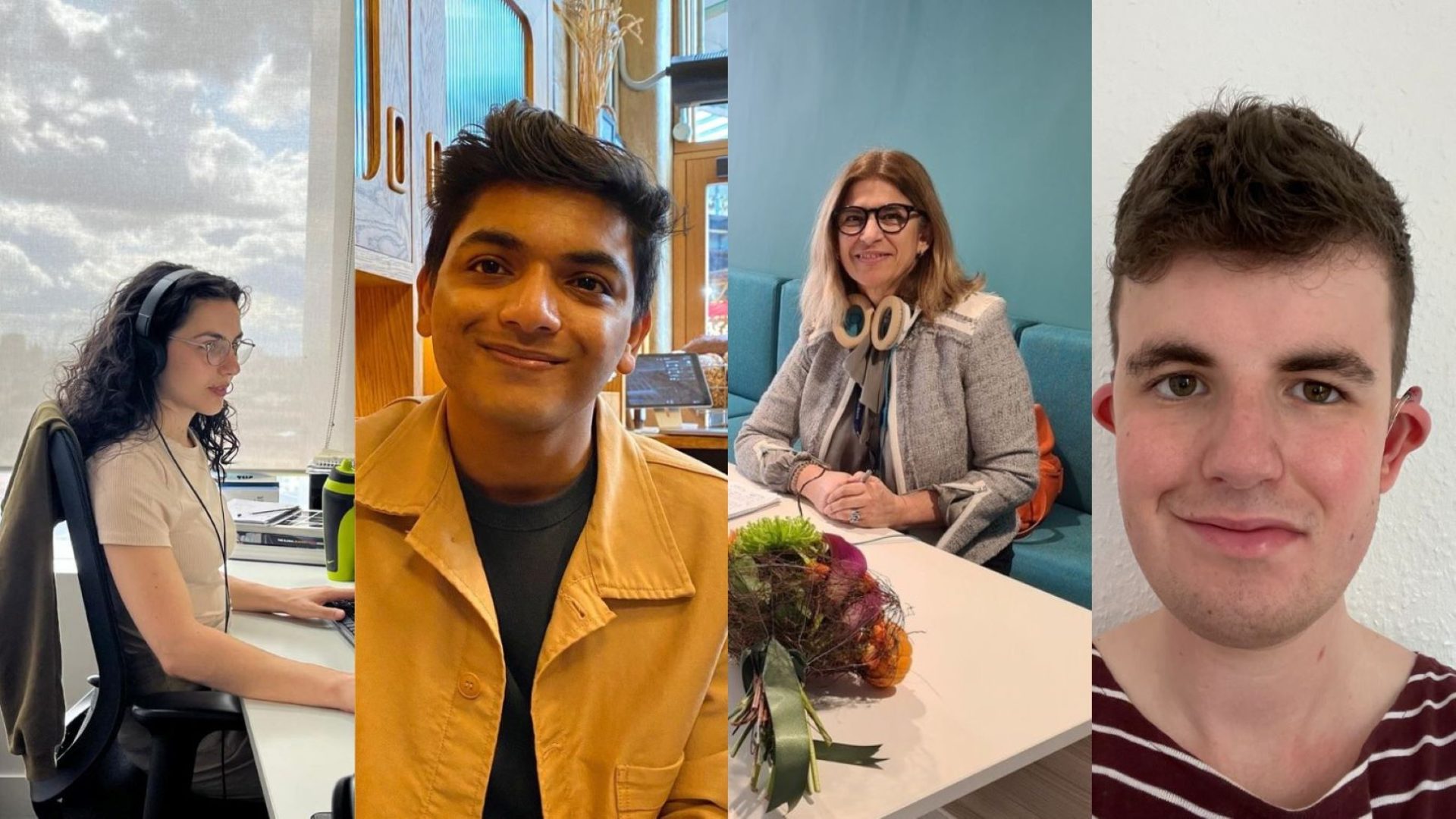 'It's opened the doors to an industry I want to work in': JDF recipients reflect on how bursaries have set them on the path to success
As we near the end of the academic year, Journalism Diversity Fund recipients have reflected on how getting a bursary has propelled them into the world of journalism and set them up for successful careers.
As we near the end of the academic year, Journalism Diversity Fund recipients have reflected on how getting a bursary has propelled them into the world of journalism and set them up for successful careers.
During the 2022-23 academic year, 50 applicants were awarded a bursary from the Journalism Diversity Fund (JDF) to support them throughout their NCTJ studies – with the scheme itself surpassing a significant milestone.
Since the fund was set up in 2005 with a donation of £100,000 from NLA Media Access, the JDF has now awarded more than 500 bursaries, enabling more diverse people to train as journalists and making newsrooms better reflect the communities they serve.
Since 2005, the financial support of the industry has grown and its supporters now include Google News Initiative, BBC News, Bloomberg, Financial Times, Reuters, Sky and many more.
Reflecting on his NCTJ training and what a JDF bursary has meant to him, Noah Keate said he opted to apply to the JDF after realising during his BA studies at the University of Warwick that he wanted to become a political journalist.
The 21-year-old, who studied on the fast-track course at News Associates in London from September 2022 to February 2023, said: "I have had a long-time fascination with politics and an interest in political journalism. During university, there was no time when politics was quiet and that really motivated me to report on it.
"I had spoken to some journalists on Twitter and I asked them what qualification they would recommend. Lots of people said that having the NCTJ diploma would make me stand out. I also liked the idea of devoting five months to completing the qualification.
"I am hearing impaired and have been wearing two hearing aids since I was three-years-old, so I have always had it in my mind to make sure disabilities are represented in the media."
Noah, who is from Cambridge, said that being given a JDF bursary to support his living expenses was "invaluable".
He said: "I got a room in Twickenham, which was walking distance from News Associates. It just meant I didn't have to worry about the commute, especially when there were train strikes.
"I am so grateful to the JDF for helping to subsidise the rent payments."
Since achieving his gold standard diploma, Noah secured a job as a reporter for POLITICO's London Playbook newsletter.
He said: "It goes out twice a day – at 7am and 5pm – to let people know what's happening in Westminster that day and the key political issues that people need to know about.
"I did a series of trial shifts during Christmas and New Year and the job came around at the start of February. It's been a whirlwind of a ride.
"The team have been really supportive and encouraging."
For Noni Needs, 56, being awarded a JDF bursary has allowed her to take that leap into a career change from graphic design.
She chose to study on the 28-week Diploma in Journalism course at City of Portsmouth College after volunteering for community radio in Petersfield and working on her own show – The Shine Radio Recipe.
She said: "I was always interested in radio and there was a call-out for volunteers. When lockdown happened, I got involved in doing news because I had my own mic. It was like a baptism of fire.
"I have a huge admiration for writers, radio and that craft. The journalism part of it is the bit that I love.
"I wanted to get into journalism and I thought 'if not now, when?'"
Noni sought advice from Richard Gaisford, co-founder of Shine Radio, who suggested she study for an NCTJ diploma.
The mum-of-two said: "There was no way I could fund it and the course leader, Darren Sadler, suggested I apply for a JDF bursary. I wouldn't have been able to do the course otherwise.
"For me, it's made a massive difference. I thought that if I could get a qualification, then I would have a chance of getting a job in journalism.
"The diploma has given me an understanding of media law and regulation, as well as video and editing skills.
"During my course, I also interviewed Penny Mordaunt, Portsmouth North's MP. That was huge – going from not writing news to interviewing someone like that.
"The course was intense and the work placements were brilliant."
Noni recently undertook an internship with ITV Meridian, where she was able to shadow reporters and watch the production of the news from the gallery. She is now searching for her first job in journalism.
She said: "I wouldn't have access to these opportunities without the diploma. The JDF has opened the doors to an industry I want to work in."
Stéffie Banatvala, who is now interning at Agence France-Presse, was also awarded a JDF bursary to study on the fast-track course at News Associates in London.
The 24-year-old said meeting industry professionals was an invaluable experience made possible by the JDF.
She said: "The network, contacts and people in the industry has been the biggest thing for me."
Over the past seven months as she is kicking off her career, she has worked with TalkTV, The Sun and the Financial Times and aims to become an international correspondent.
Reflecting on being awarded a JDF bursary, she said: "It was exciting because it was a reassuring moment in starting out in journalism.
"There are lots of different routes you can take into journalism, and a lot of people start off freelancing but it can feel a bit invalid – I had bylines published but I wouldn't have called myself a journalist.
"So having someone award you a bursary gives you a nudge – it acknowledges that you are on the right track."
Rafe Uddin, 25, is a money reporter at the FT and studied on the part-time multimedia journalism course at PA Training thanks to a JDF bursary.
He said he picked the course to "level up" and demonstrate his commitment to journalism.
"What was great about the course was that it helped me get quickly up-to-speed about what it means to be a journalist," he said.
"At the same time, I was accepted onto an internship at the FT after applying for newsroom positions in London.
"The JDF was the difference between doing the diploma and not doing the diploma, because of affordability. Without that funding, I wouldn't have been able to do the diploma and progress my career."
During the past year, the JDF has celebrated a spate of successful initiatives, including rolling out exclusive mentorship into the recipients' first year of employment and working with supporters to run dedicated JDF events.
In February, JDF beneficiaries attended an evening of talks and discussions at the BMJ to learn about the world of health journalism. And earlier this month, bursary recipients gained exclusive insight into the world of business journalism during a speed-mentoring event hosted by Insider, which featured top UK reporters and editors.
Nikki Akinola, senior diversity and inclusion co-ordinator at the NCTJ, said: "Reaching the milestone of awarding our 500th Journalism Diversity Fund bursary is a resounding testament to our unwavering commitment to fostering inclusivity and representation within the journalism.
"We're incredibly proud that the JDF has been a transformative force for 500 talented individuals from underrepresented backgrounds, propelling them towards successful careers in journalism.
"By breaking down barriers and fostering diverse talent, the JDF is committed to shaping a media landscape that is vibrant, authentic and reflective of the diverse society it serves."
Find out more about applying for a Journalism Diversity Fund bursary here. The next cohort deadline is 5pm on Wednesday, 26 July.