The NCTJ continues to innovate to meet the needs of the journalism industry as it celebrates its 70th anniversary
Innovation and progress to meet the needs of today's journalists continues to be the purpose of the NCTJ as it celebrates 70 years of quality journalism training.
Innovation and progress to meet the needs of today's journalists continues to be the purpose of the NCTJ as it celebrates 70 years of quality journalism training.
To mark its platinum anniversary, the charity hosted a celebratory reception at UK Parliament on Wednesday, 6 July, joined by supporters from across the media and journalism education and training.
The reception was postponed from November 2021, due to the coronavirus pandemic.
Established in 1951 to run the newspaper industry's trainee programme, the NCTJ now serves all media, providing a world-class education and training system that equips journalists with the cutting-edge skills and knowledge needed in the fast-changing multimedia industry.
Over the last 70 years, thousands of journalists have trained for their NCTJ qualifications, celebrated passing their exams and have been supported to enter the world of journalism.
Speaking at the reception, Joanne Butcher, chief executive of the NCTJ, said: "It's heartening that our charity, in reaching this milestone anniversary, has become such an important journalism organisation that is unique in getting all sectors of the media to work together with all sectors of journalism education and training.
"I hope that one of the reasons you are here to celebrate journalism is because you believe in what we stand for and you share our values. Quality, trust and diversity are values we as a society need to protect and promote more than ever before."
The NCTJ has continued to keep pace with the changing marketplace by ensuring its qualifications and accreditation standards keep up with digital developments and changes in working practices, all the while remaining steadfast on the traditional fundamentals of good journalism.
The outbreak of the Coronavirus pandemic also meant a period of adaptation for the NCTJ as it introduced remote exams for students to sit safely and securely at home. As centres stepped up to innovate via remote teaching, the NCTJ supported its tutors with training webinars and opportunities to share best practice.
The anniversary year proved to be one of the NCTJ's biggest yet, with the scaling up of the Community News Project and the Journalism Diversity Fund, and an overhaul of its internal and external digital platforms.
Thanks to the support from the Google News Initiative, the NCTJ launched the Journalism Skills Academy, offering qualifications and CPD training offerings via e-learning.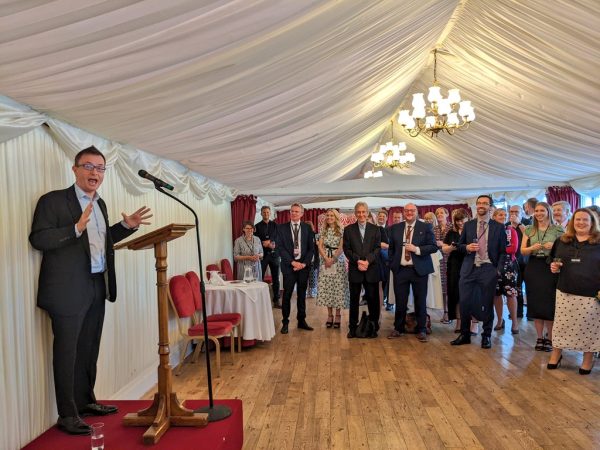 Speaking on behalf of the NCTJ trustees, John Ryley, head of Sky News talked of the huge importance of diversity in newsrooms, imploring guests to "make it a personal mission, no matter where you work, to encourage social mobility."
Looking forward, the NCTJ aims to do more to facilitate equality of opportunity in journalism by taking action to encourage a diverse and inclusive culture.
This was highlighted in the NCTJ's Diversity in Journalism report, published in May, which found ongoing issues with social class which need to be addressed as a priority.
Launching the NCTJ's best practice guide to work experience at the event, Joanne Butcher said: "Short placements are fine to see if the job is for you or to hone your skills and training. But we have to work together to stop unpaid internships: they are morally wrong, illegal and unfair. Networks and wealth should not open doors that are shut to hard work or poverty.
"We need to encourage those from all walks of life into journalism roles, take down the barriers and support people in their careers. We must place equal value on alternative, non-graduate entry points and boost recruitment and promotion from this talent pool."
To read the NCTJ's best practice guide to work experience, click here. Joanne Butcher's full speech can be found here.