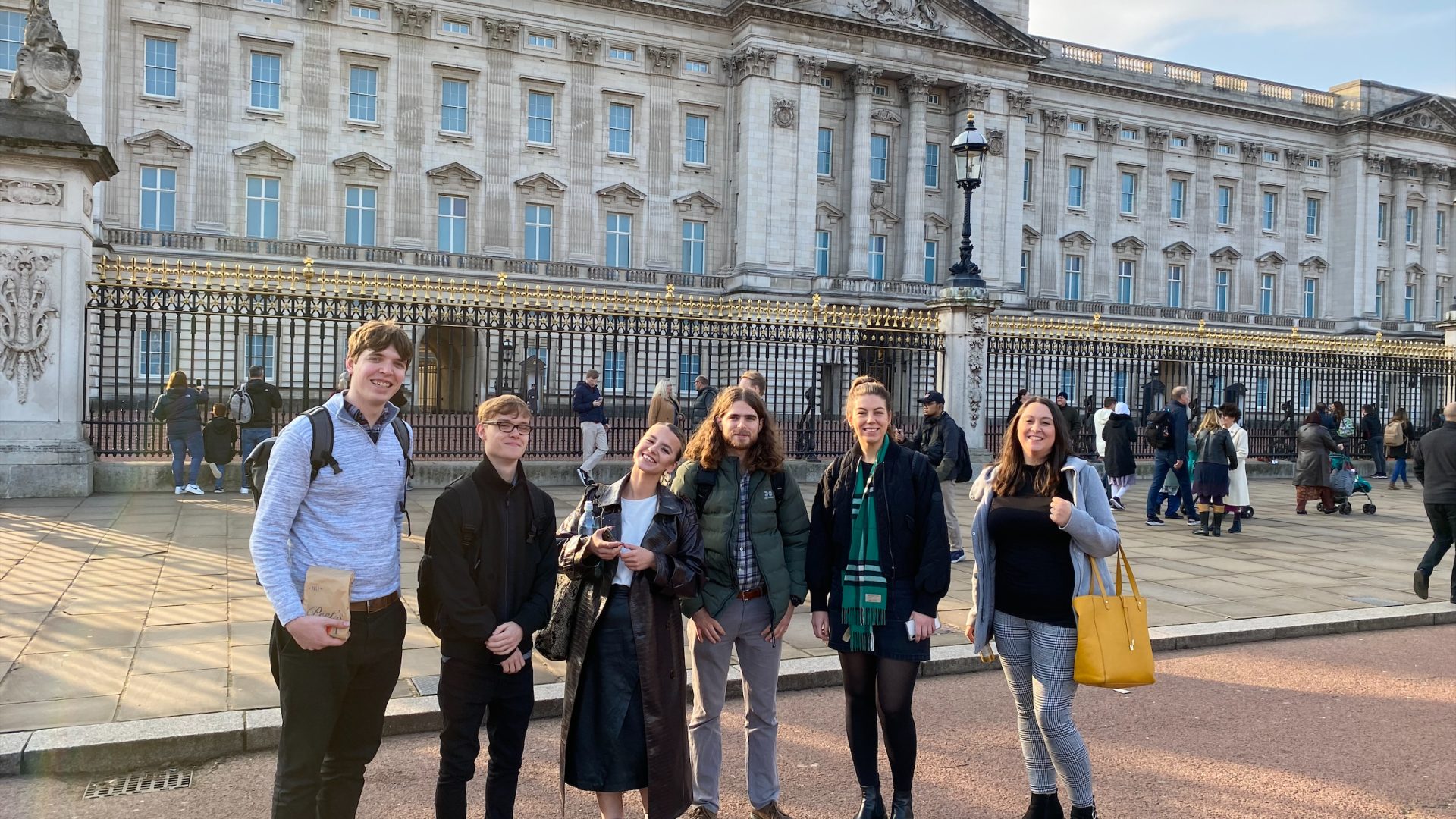 Training providers say community news reporters are a "joy to teach"
Community reporters are a "joy to teach" thanks to their commitment, enthusiasm and industry access, say training providers as NCTJ teaching gets underway for several groups of recent starters.
Community News Project (CNP) recruits are placed at the heart of local newsrooms, report on under-served communities and all train towards a professional NCTJ qualification.
Assigned to different training providers, either Bournemouth University, City of Portsmouth College, Darlington College, Glasgow Clyde College or Sheffield College, all reporters work towards the Diploma in Journalism, or the National Qualification in Journalism (NQJ) if they have already achieved the diploma.
Training differs between providers with some reporters joining remotely or in-person once a week, and other providers offering week-long in-person bootcamps in between remote sessions.
Bournemouth University started delivering training to their fourth cohort of community reporters last month, in which reporters attend the university for week-long bootcamps spread throughout the year.
In between the bootcamps, community reporters are given training remotely every Thursday to study the elective modules in shorthand, public affairs, journalism for a digital audience and videojournalism for digital platforms.
Course leader Miriam Phillips said: "We think it's really important to do the bootcamps so they can come away from their newsrooms, meet each other and really cement those skills."
As well as the diploma training, students are given confidence-building and resilience training to cope with the demands of real-world journalism.
Miriam added: "With community news reporters, there is a real range of confidence levels, so we find building confidence is a big area to work on, but also rejection.
"We speak to the community reporters about how to deal with rejection and how to stay professional and positive. It's about how you hold yourself, how you talk and the tone of your voice. For example, how you say hello reflects on how the phone call is going to go. The training seems to be really beneficial.
"From our side, it's been a real pleasure to teach the community reporters – it's a highlight of my job. It's great to meet people who wouldn't have got the opportunity to be a journalist without schemes like this. They are all so keen and eager to learn."
For Sheffield College, the 2022-23 academic year marks a return to diploma training for community news reporters, after it successfully taught a cohort in 2019-20.
The cohort of 12 reporters, from National World, MNA Media and Congleton Chronicle, all began their training in September and spend every Monday having remote lessons with the college.
They have begun their training in shorthand, videojournalism for digital platforms and public affairs, and will be starting training in digital journalism next month.
In order to encourage strong cohort cohesion, course leader Bethan Hyatt has also organised group work and in-person trips. The community reporters met one another, and a group of college students also studying for the NCTJ diploma, for the first time on a trip to London last month.
Bethan said: "It was a jam-packed day, with a visit to the Telegraph to look around the newsroom and chat to assistant managing editor George Chesterton, a quick stop at Buckingham Palace, and an afternoon in the public gallery at the House of Commons, watching Suella Braverman take questions.
"The CNP reporters are taught remotely, so it was the first time they'd met me and the rest of the group face-to-face, but everyone got along brilliantly, swapping stories about their work, lives and how they're finding the NCTJ course.
"It was great to see more than just the head and shoulders we see on screen each week! We even managed to capture some live video journalism when Prince William drove past with a cavalcade of police escorts."
During the first week of diploma training, the community reporters were also given resilience training on how to deal with potentially traumatic experiences as journalists.
Bethan added: "We talked with the reporters not just about witnessing traumatic events, but also about being on the receiving end of abuse.
"We discussed strategies for coping, mindfulness-based meditation and work-life balance. We also watched a video of Jeremy Bowen, from BBC News, about the impact of being a conflict reporter and PTSD."
At Darlington College, training is delivered to a mix of several discrete groups of community reporters, some of whom are working towards their diploma and others who have achieved the diploma and are studying toward the senior-level National Qualification in Journalism (NQJ).
A cohort of more than 10 community reporters from Reach PLC began their diploma training with Darlington College in September, and another group of community reporters from a range of publishers began their training in May. All community reporters join the college remotely for their training one day a week.
Course leader Sue Calvert, who has been training community reporters since the launch of the CNP in 2019, said: "Here at Darlington, it is a joy to work with groups of talented community reporters making a real impact in their work.
"Portfolios are a testament to that with examples of content that have got to the heart of the community and given voices to under-represented groups.
"It's tough working and learning but the NCTJ programme is giving them training they can relate to their daily work from day one. In weekly delivered online sessions they are working with tutors and sharing good practice with each other.
"It's fantastic once again this year to see diploma graduates moving on to their senior qualification with us."
Twelve community reporters are remotely studying for the diploma with City of Portsmouth College on Thursdays, working towards achieving the elective modules of shorthand, public affairs, journalism for a digital audience and videojournalism for digital platforms.
Course leader Darren Sadler said they have introduced new ways of teaching and working online. He said: "We have had two to three years of online teaching behind us, so we know what works. We have introduced a feedback system with shorthand, where we can look at wider skills and how they are using their shorthand outside of the lessons.
"We are looking at the wider skillsets and getting them to understand that it isn't just learning a new language, it's contextualising it for them in the world of journalism."
The community reporters on the course are working for various titles, published by National World, Iliffe Media and Tindle. Darren added that it was interesting to hear how experiences differ between reporters from different publications.
He said: "It's been nice to get everyone's perspective on what their areas are like and to sound out what these differences are, understanding from each perspective about how different newspapers operate."
Cohort cohesion and engagement with the course is a key priority for Darren as he encourages the reporters to connect with each other as much as possible.
He said: "I have encouraged them to set up a WhatsApp group as a communication tool, and I'm not in the group. It's a good way for them to communicate beyond the lessons on Thursdays and for them to share stories and ideas.
"They are a lovely group and all tutors on the course have said they are a joy to teach. They are all very enthusiastic."
At Glasgow Clyde College, the training brings together reporters working for DC Thomson, Newsquest, Highland News & Media, National World, Argyll Media and DNG Media. Between them they are covering a wide range of communities around Scotland, including Dundee, Edinburgh, Ullapool, Glasgow, the Isle of Bute and the Isle of Skye.
Offered as a hybrid approach to training, community reporters are able to either join each other in person at the college or log in to lessons on public affairs, videojournalism and digital journalism remotely every Friday. Shorthand sessions are delivered twice a week on Mondays and Thursdays.
Course leader Ross Nixon said: "A big positive for this course is the way we have been able to do hybrid learning and I think that's what we have been able to help employers with so that their reporters can log on from their different locations.
"That is one of the highlights of the course and it's working well. The next step for me is to survey those that are learning remotely to ensure that they are fully engaged with the course.
"It's great to have the deputy head of the news at the BBC, Peter MacRae, teaching Essential Journalism. Fundamentally, we want to give the students the best experience and access to the industry.
"Pete has lots of stories to talk about his experiences. When the Queen passed away, he couldn't teach that session but he could later talk about what happened in the newsroom. There's nothing better than learning from current journalists with those current skills."