Three high-flying journalists win NCTJ performance awards
The three top-performing journalists who are embarking on promising careers in the industry have been rewarded for their impressive exam results.
The three top-performing journalists who are embarking on promising careers in the industry have been rewarded for their impressive exam results.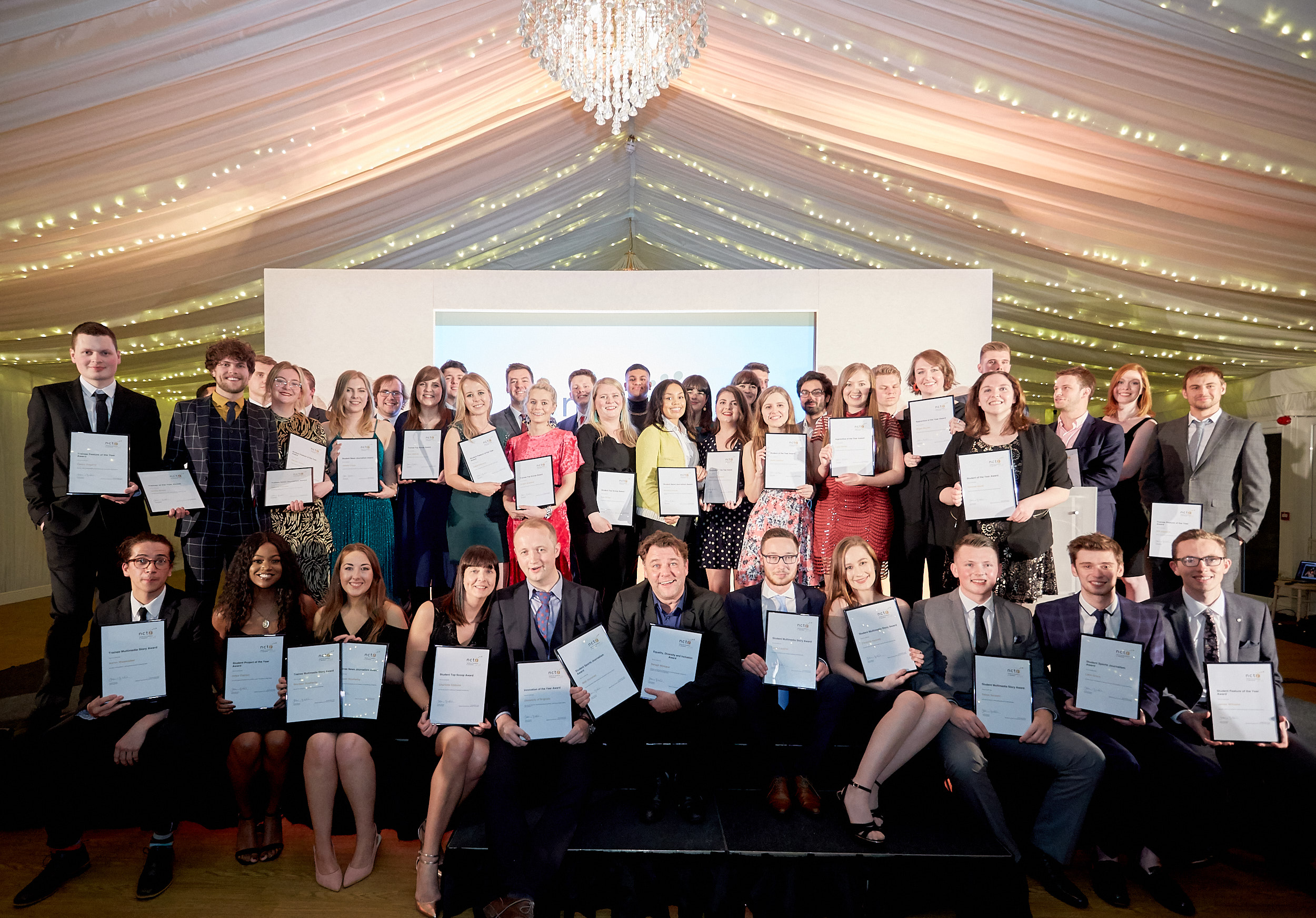 Students, trainees and apprentices from across the UK were honoured at the 2018 NCTJ Awards for Excellence ceremony and gala dinner, held at Quendon Hall in Essex on Thursday, 29 November.
The NCTJ rewarded journalists JP Asher, Gemma Joyce and Megan Baynes for achieving the best set of results overall above their peers despite juggling work commitments.
JP Asher, who now works in editorial production for Archant, won the trainee journalist of the year award after he embarked on his journalism training without any A-Levels or a degree.
His path into journalism began as a junior journalist apprentice studying at Lambeth College while also working at The Comet.
As well as passing his Diploma in Journalism exams with flying colours, he also received the best results in the senior National Qualification in Journalism exams, which he sat in November 2017.
JP recommended future journalists to consider studying as an apprentice.
He said: "Gaining the qualification while doing real-life journalism work helped me to develop as a reporter very quickly, so that by the end of the two years I already felt like a seasoned member of the team.
"For me, there is no substitute for real experience in the field – and an apprenticeship is an excellent way for an aspiring journalist to benefit from the best of both worlds."
This year's student journalist of the year award was handed to Brighton Journalist Works' graduate Gemma Joyce, who topped the board of 1,127 students to achieve the highest marks in her Diploma in Journalism exams. She achieved straight A's with the highest marks and 100 words per minute shorthand.
She managed to achieve her impressive set of results while working full-time.
Gemma, who loves turning data into stories, now works at social media monitoring company Brandwatch, where she has written a variety of viral articles and presented social media data stories at Twitter HQ and Oxford University.
Following nominations from employers and trainers, apprentice of the year was awarded to Megan Baynes, from the Isle of Wight County Press and Highbury College.
Megan, who achieved outstanding results in her diploma exams and has already been promoted to local democracy reporter, was praised by her deputy editor for her hard work and ability to tackle in-depth stories.
Paul Foster, Megan's tutor at Highbury College, said: "Megan always turns up to college with a smile on her face and is a positive influence on the other apprentices. She is a hard worker and files her coursework on time every week without fail, despite all her work commitments."
This year's Awards for Excellence saw a record-breaking number of entries for the various categories, with 329 submissions from top quality journalists representing a breadth of education and the media.
Sky News presenter Sarah Hewson, who hosted the awards, commended the skills, determination and resilience of the shortlisted entrants, adding: "You should be immensely proud of your work.
"Once again, we would like to thank the expert panel of judges. They were thoroughly impressed with the standard and quality of the work they saw."
The awards certificates were handed to each winner by Kim Fletcher, chairman of the NCTJ. The categories included news journalism, sports journalism, features, top scoop/exclusive, multimedia story/campaign and student project of the year.
The full list of winners and commendations is as follows:
Student news journalism
Winner – Jessica Cripps, News Associates London
Highly Commended – Rianna Croxford, Press Association Training
Commended – Laura FitzPatrick, News Associates Manchester

Trainee news journalism
Winner – Bronwen Weatherby, Bristol Live
Highly Commended – Olivia Tobin, Evening Standard
Commended – Isabella Cipirska, Worthing Herald

Student sports journalism
Winner – Matt Horsman, St Mary's University
Highly Commended – Liam Grace, Bournemouth University
Commended – Josh Jones, News Associates London
Commended – Oscar Lynch, News Associates Manchester

Trainee sports journalism
Winner – Joe Nicholson, Sunderland Echo, Shields Gazette and Hartlepool Mail
Highly Commended – Richard Dore, Sportsbeat
Commended – Jordan Davies, The Sun

Student features award
Winner – Hannah Tomes, University of Sheffield
Highly Commended – James Williams, University of Lincoln
Commended – Isabel Eidhamar, University of Kent

Trainee features award
Winner – Will Hayward, WalesOnline and Western Mail
Highly Commended – Conor Gogarty, Gloucestershire Live
Commended – Anna Lewis, WalesOnline

Student top scoop/exclusive
Winner – Charlotte Gibbons, City of Liverpool College
Highly Commended – Kate Wilsea, Press Association Training
Commended – Joe Wallen, News Associates London

Trainee top scoop/exclusive
Winner – Amy Gibbons, East Anglian Daily Times and Ipswich Star
Highly Commended – Imogen Braddick, Saffron Walden Reporter
Commended – James Carr, Lowestoft Journal and Eastern Daily Press

Student multimedia story/campaign of the year
Winner – Dan Sansom, Bournemouth University
Highly Commended – Carmella Haswell, Bournemouth University
Commended – Lewis Lesbirel, Bournemouth University

Trainee multimedia story/campaign of the year
Winner – Bronwen Weatherby, Bristol Post
Highly Commended – Alasdair Hooper, Essex Live
Commended – Aaron Walawalker, Ilford Recorder

Student project of the year
Winner – Team Brit – On the Road to Recovery, Michael Haffenden, University of Kent
Highly Commended – The Search for Black Blood, Indya Clayton, University of Kent
Commended – Harlow Harrier, Chloe McKendrick, Harlow College

Apprentice of the year
Winner – Megan Baynes, Isle of Wight County Press (Highbury College)
Commended – Yusaf Akbar, BBC West Midlands (City of Wolverhampton College)
Commended – Jessica Frank-Keyes, Eastern Daily Press (Press Association Training)
Commended – Lucy Starkie, Newsquest Cumbria (Darlington College)

Student journalist of the year
Winner – Gemma Joyce, Brighton Journalist Works
Commended – Nick Friend, St Mary's University
Commended – Abbie Llewelyn, News Associates London
Commended – Vicky Munro, News Associates London
Commended – Abbas Panjwani, News Associates London
Commended – Peter Rogers, Press Association Training

Trainee journalist of the year
Winner – JP Asher, Eastern Daily Press
Commended – James Butler, Worthing Herald
Commended – Ned Bristow, Northwich News