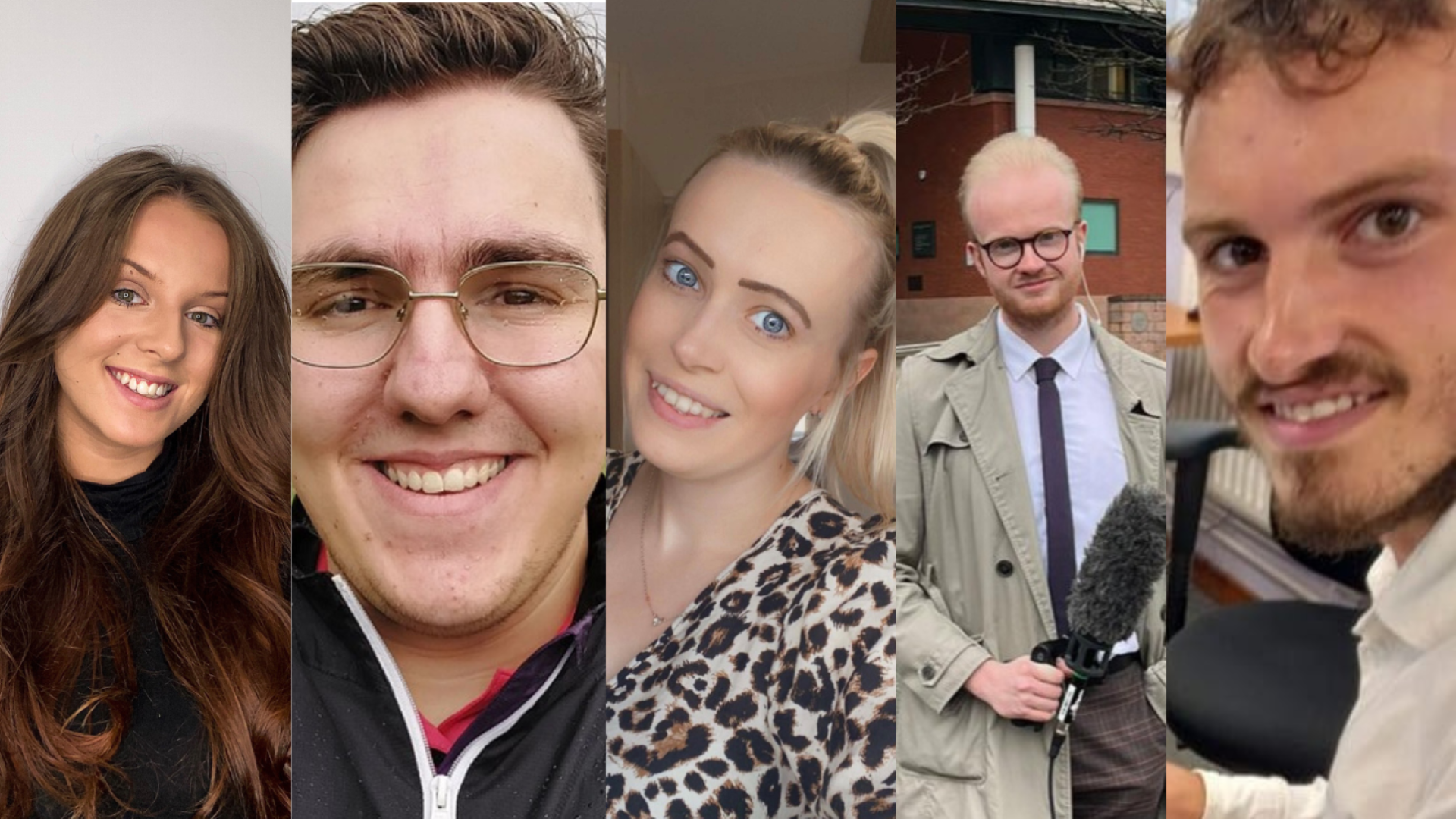 The King's coronation through the eyes of the UK's community news reporters
Community reporters have described the "huge privilege" it has been to cover local celebrations for King Charles's coronation.
Reporters in roles created by the Community News Project used the royal occasion to engage with their audiences by reporting on local connections, events and community impact.
Stories covered included the plethora of street parties taking place, a local business supplying the coronation concert with luxury cigars, local chocolatiers developing a new range of celebratory chocolates and even a scarecrow competition.
Tom Bedworth, community reporter for the Warrington Guardian, spoke to Scout Michael Mairs, who was invited to attend the coronation and incredibly managed to get a selfie with Katy Perry.
Tom also covered road closures across Warrington, community displays of patriotism and charities opening up to volunteers.
He said that his publication had to be careful to strike the right balance with the amount of coverage they gave to the coronation.
He said: "Although the coronation was a hugely significant event of national, cultural and historical significance, reports have shown that the majority of people are not royalists. Therefore, in order to continue providing communities with trusted local news, it was important to strike the balance between fair coverage of the coronation, and also ensuring that audiences were not bombarded.
"Stories about important road closures were very well-read, as they highlighted the day-to-day impact that the coronation would have in Warrington, regardless of whether readers are fans of the King or not.
"Reporting on local community groups making efforts throughout the coronation celebrations has been really enjoyable, and has reflected the King's hopes that communities pull together through various means such as the 'Big Lunch' events, as well as the 'Big Help Out.'
"All in all, it's been another huge privilege of my job as a community reporter to share in the jubilation of so many local people."
Harriet Heywood, community reporter at the Bury Times, created interactive maps of all the street parties taking place in her patch, as well as giving her audience the lowdown on all the pubs in Bury serving specially-crafted Coronation Ale.
But for Harriet, her favourite coronation-themed story was an update on the schoolboy who had been pictured in the Bury Times in 1977 when he skipped school to meet Prince Charles.
She said: "It can be very hit or miss, especially in my patch, how people generally react to 'royal news'. What I have been excited to work on is the feature articles, with royal links, that focus on the achievements and work that people in Bury have been doing.
"I have been waiting to write one of these articles for a while, staying connected with my interviewee and although it took a while and a lot of timelining, I was able to re-tell the story of Paul Wilson.
"The photo in the Bury Times in 1977 landed him in a lot of trouble when his mum spotted it in the paper the following week, but the picture was the start of an incredible link to the royals.
"He joined the RAF band and performed at Charles and Diana's wedding, played the Last Post at St Paul's Cathedral and met the Queen to receive an MBE.
"I had the amazing opportunity to meet with Paul after he spotted himself in the archive photo which I used in an article last year. I held off from publishing right away as there was a lot of material to get through and the coronation felt like the perfect time to share it.
"Covering stories like these is an incredible feeling."
Royal links also featured in Plymouth Live on coronation day as community reporter Katie Oborn covered 103-year-old Vera Stephen's birthday, which was celebrated on the same day.
Katie made sure to include lots of coronation references in the story, asking Vera of her memories of the Queen's coronation.
She said: "Vera had a great memory and she remembered watching the Queen Elizabeth's Coronation very well as a young woman. Speaking with Vera was an absolute pleasure, she's a very interesting lady and it was a privilege to meet her."
Community reporter Hayley Lovely, who works for the Shields Gazette, discovered on Facebook that a local chocolatier had launched a new range of chocolate to commemorate King Charles' coronation and felt it was a perfect opportunity to film the creation process for her video journalism coursework.
She said: "It was great to cover a piece about the King's Coronation in a different way to the usual street party or event. Visiting the chocolatier was a great experience and allowed for a great storytelling opportunity on a topical event."
Alex Bowen, community reporter for the Cambrian News, felt it was "pure luck" he was able to tell the story of how Aberystwyth's oldest business was asked to supply a box of Cuban cigars to Windsor Castle.
Alex headed down to meet Peter Lloyd, who owns A E Lloyd and Son, after Peter reached out to the newspaper.
Alex said: "It was interesting to see the connection running so far away from London. I wouldn't have expected that out of the whole UK, it's a store in our humble town that would be their choice of supplier.
"I live less than five minutes away from the store, and have been there myself in the past to buy tobacco, but I never would have known it was somewhere so prestigious. It's quite crazy to think of."
Matty O'Hara, community reporter for the News and Star in Carlisle, covered one community in Cumbria's very creative way of celebrating the coronation – with a scarecrow competition.
The event in Hethersgill invited locals to get creative and craft their very own Charles and Camilla with the winner announced after a picnic and play day.
Matty said that "exploring the bonds within these communities is the privilege of a community reporter".
William Carter, community reporter for the Northamptonshire Telegraph, told the story of local man James Mulholland, who marched with the Household Cavalry Regiment on the day in what was a 'highlight' of his career. He also reported on how two royal bears went missing from a town's coronation yarn display.
He said: "Even though the Northants Telegraph covers lots of towns in North Northamptonshire it was surprising to me just how much the coronation took up our time.
"The tiniest villages even held big events and had stories to tell, so it was interesting to see otherwise quiet communities get so caught up in the celebrations. It was hard to keep up and keep coverage evenly spread, but I think we made it through okay!"
The Community News Project was launched in 2019 and has to date offered opportunities to 276 individuals to become community reporters. At present, 111 community reporters are in role across the UK, with 23 different publishers. All of them are studying for NCTJ qualifications alongside their day-to-day journalism work.