Radio Wembley and chance encounters
Neil Kingston blogs on his work as a self-producing presenter for the Football Association on Radio Wembley, and what happened after a chance encounter with BBC sports editor, David Bond.
By Neil Kingston, Journalism Diversity Fund recipient 2013-14
I cannot believe how quickly time has flown by during my time at St Mary's University – and what a year of change it has been. I still cast my mind back to the day I was grilled over my credentials and motivation to succeed as a candidate for the Journalism Diversity Fund last summer. To this day, I still thank the likes of Joanne Butcher at the NCTJ for investing in me.
A major change in my career since I last wrote for the Journalism Diversity Fund blog is that I have picked up casual work as a self-producing presenter for the Football Association in a multi-sport and event capacity on Radio Wembley, which is aired in and around the venue on event days. The best part of the job is that – in theory (there is always a mole) – I am the first person to break the team news on air as it comes up from the changing rooms. I am hopeful that in due course, we will also be able to add studio guests to the production which will really add journalistic credibility to the role.
So far this season I have provided pre- and post-match coverage of Manchester City's Capital One Cup win over Sunderland, England's narrow win over Denmark and action from Rugby Union's AVIVA Premiership. As the season reaches its climax I will also be in the hot seat for Arsenal's FA Cup semi-final clash with holders Wigan, the FA Cup final itself and then (fingers crossed) the biggest boxing match in British history – Froch Vs Groves Two.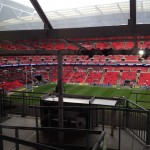 When I first started out in broadcast, the smallest of stages would get my stomach churning but the diversity fund has reinstalled a culture of strength and self-belief in my abilities. This year of NCTJ study has added an unquantifiable amount of value to what I can offer employers, meaning that not only can I understand and deliver a good local story, but I am also ready and excited to thrive on the pressure of engaging nearly 100,000 people at a time inside our national stadium – or anywhere else an editor would like to send me for that matter!
In a real grass roots scoop, I was able to expose how St Mary's is one of the only universities in the country to retain profits from its bar – leaving students to self-fund their sports teams in many cases. Without doubt, breaking this was a much needed slap in the face for an institution which aspires to be the best for student sport in the UK.
See link: http://sportsgazette.co.uk/section.php?aid=1124&sid=6.
As I sign off, I would like to share another experience I had a few weeks ago. Waiting for a train, I saw a very familiar face walking along on the platform. I regularly read the work of BBC sports editor, David Bond, and the chance presented itself for me to make an introduction – so I did. We had a terrific chat about journalism, news and sport for the next 45 minutes or so which resulted in him featuring in a video piece for me, discussing Mo Farah's London marathon attempt. Meeting and then producing a piece of work with an absolute gentleman and top class professional such as David was purely inspirational and I hope that you also get to collaborate with one of your favourite journalists in a similar way.
All the best and keep the dream alive.
Neil.