New bursary awarded for first time in honour of inspirational journalist Thomas Read
A Journalism Diversity Fund recipient has been awarded a new bursary in memory of a Sky Sports News journalist who died aged 25.
A Journalism Diversity Fund recipient has been awarded a new bursary in memory of a Sky Sports News journalist who died aged 25.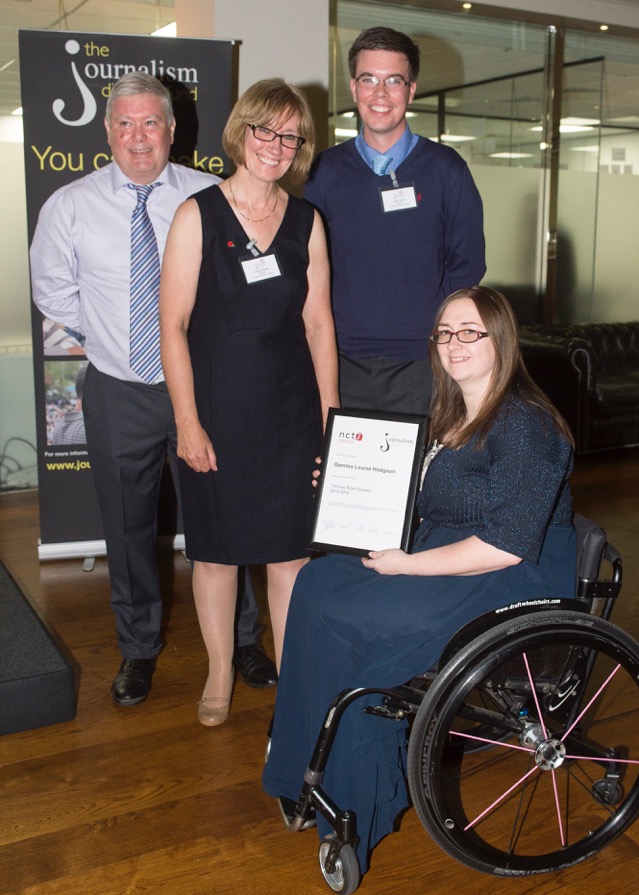 The bursary was set up by the Read family in honour of their son and brother, Thomas, who overcame adversity to follow his dream of a career in sports journalism. The bursary is administered in partnership with the Journalism Diversity Fund.
Thomas, who battled cerebral palsy from a young age, won a place to study a postgraduate journalism course at Cardiff University and then, after completing work experience at Sky Sports News joined them as a full-time sports journalist working on the bulletin team.
Unfortunately, and unexpectedly, Thomas passed away in early 2015. His family set up the Thomas Read bursary in his memory to award journalists who demonstrated the qualities embodied by Thomas: a passion for journalism; a determination to succeed; and the ability to overcome adversity.
The bursary, announced at a reception to mark 10 years of the Journalism Diversity Fund, was presented to diversity fund bursary recipient Gemma-Louise Hodgson, 30, who is studying for a postgraduate Diploma in Sports Journalism at St Mary's University.
The award is a £5,000 contribution to Gemma's total Journalism Diversity Fund bursary, as well as a work placement at Sky Sports News.
Gemma said: "I am so grateful to the Read family for this opportunity and feel honoured to be the first recipient.
"It has been my ambition to be a sports journalist and broadcaster for a long time and once I have finished my course at St Mary's I really hope to be able use my training to raise the profile of para-sport in the UK media to help create more positive perceptions of disability."
Presenting the award at the Journalism Diversity Fund reception Thomas' father, Kevin Read, said: "It was a particular phrase that Gemma used in her bursary application that made us think 'That's just what Thomas would say' that convinced us she was the perfect recipient for the bursary. Thank you to the NCTJ for helping organise this award."
Kevin want on to say that thanks to the support from friends and family they were able to expand the Thomas Read bursary from three to five years.
Introducing the award presentation at the reception, Andy Cairns, executive editor, Sky Sports News said: "I'm delighted that this bursary fund has been established in Thomas' memory. Sports journalism needs greater diversity and this will help achieve that. Thomas family and former colleagues have already raised a huge sum to make this happen. His parents are an inspiration to us. And I'm delighted they are here tonight to make this first award".
Picture (courtesy of David Parker.): Kevin, Carolyn and James Read with bursary winner Gemma-Louise Hodgson.