NCTJ survey finds 82 per cent of journalism employers regard shorthand as important
Eighty-two per cent of employers consider shorthand to be vital, desirable or essential for some roles within their organisations, an NCTJ study has found.
Eighty-two per cent of employers consider shorthand to be vital, desirable or essential for some roles within their organisations, an NCTJ study has found.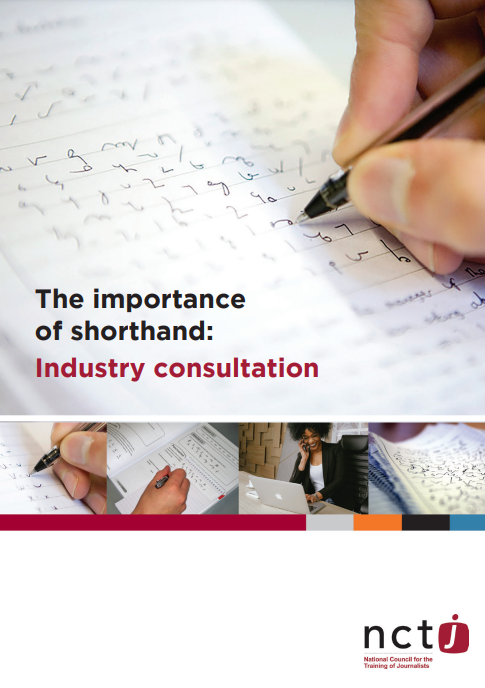 The NCTJ consulted with journalism and media employers in the UK to determine the relevance of shorthand in their businesses.
Only 18 per cent of employers who took part in the survey regard shorthand as not being important.
Sixty responses were received from employers and individuals representing 24 national newspapers, regional newspapers, magazines, broadcasters, news agencies and others.
The report found a clear divergence of views between sectors, organisations and individuals, with opinions depending on the sector and the roles which journalists have within those sectors as to whether shorthand is or isn't required.
One respondent from a national newspaper said: "If a reporter joins having not done an NCTJ we can really tell the difference, and shorthand is a major part of that.
"I would not be able to trust a reporter in court, on the phone, or in any situation if they did not have shorthand."
An editor from the broadcast sector said: "Trying to run a news rota which includes reporters without shorthand can be challenging as you can't always guarantee you'll have the right skills on shift at the time you need them."
However, another broadcaster said: "Most journalists now record interviews on their phones and use shorthand to take basic notes. Precise quotes will be checked against their phone recordings."
An important issue around the impact the need for shorthand (amongst some employers) has upon diversity was also raised.
One respondent from a regional newspaper said: "A lack of shorthand should not be a barrier to entering journalism. Insisting on shorthand closes off non-conventional routes into journalism which may provide candidates from more diverse socio-economic backgrounds."
A broadcaster said: "Unnecessary and old-fashioned requirements for shorthand freeze out a lot of disabled journalists."
The report concludes that shorthand, whilst possibly not essential for everyone, remains a useful skill for individuals to learn, contributing to and underpinning other journalistic skills and demonstrating commitment.
Emma Robinson, accreditation manager at the NCTJ, said: "We carried out this survey to understand the significance of shorthand in the journalism and media industry today.
"The NCTJ's policy on shorthand should cater for all types of journalistic roles in different media organisations, and we recognise that some roles and career paths chosen by NCTJ graduates may not require shorthand.
"If students seek to be employed in news journalism roles (particularly in national and regional newspapers) then training providers should make clear that shorthand should be studied and that not taking shorthand will lead to a diminished range of opportunities.
"If students are looking to find jobs in broadcast journalism, magazine journalism and sports journalism for example, where shorthand is seen as less of a crucial skill, courses with a focus on these types of sectors will continue to have the flexibility to deliver a combination of elective modules that may not include shorthand. The NCTJ does recommend that shorthand is offered as an option to give students access to all the key skills required to succeed in the journalism industry.
"If centres advertise their courses as gateway qualifications for all journalism careers, then those centres should offer shorthand at least as an option to all students should they wish to pursue certain career routes."