NCTJ launches new approach to accreditation following a comprehensive review and radical changes to its qualifications
The NCTJ is changing its approach to accreditation to reflect changes in journalism and journalism qualifications, education and training.
The NCTJ is changing its approach to accreditation to reflect changes in journalism and journalism qualifications, education and training. Key features of the new approach include:
An even more rigorous, transparent and cost-effective system allowing efforts to be concentrated where they are needed most. Centres with consistently high performance standards will be subject to fewer visits.

More practical support from editors and the NCTJ with closer collaboration between accredited course providers and the industry. Designated industry advisers are offering knowledge and advice on the latest journalistic techniques and working practices.

A holistic and risk-based proportionate approach using evidence and information gathered by the NCTJ to raise standards and eliminate unnecessary bureaucracy.

The appointment of a new full-time accreditation manager who is working with Rachel Manby, head of quality and assessment, the accreditation board and industry advisers to ensure high standards of excellence and added value for centres.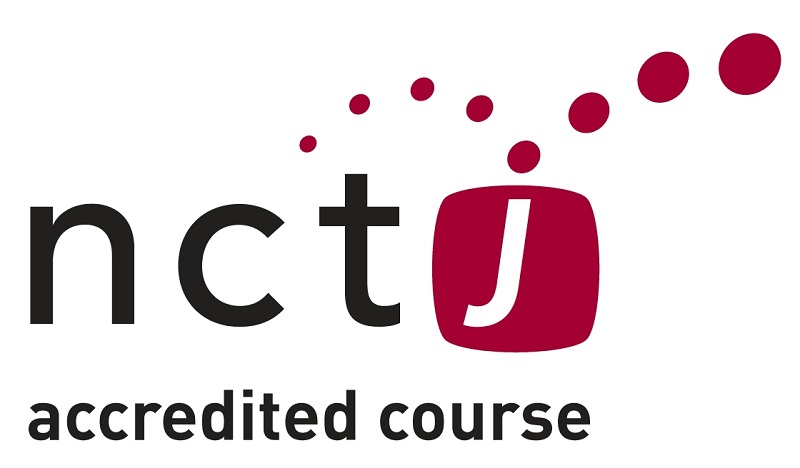 The NCTJ currently accredits more than 80 journalism courses at some 40 universities, further education colleges and independent training centres across the UK.
NCTJ accreditation is designed to be the hallmark of excellence in journalism training, providing a world-class industry standard and professional training scheme that is recognised throughout the media. It is the trusted kite-mark for courses that supply quality new recruits who have the fundamental skills and knowledge needed to work effectively as journalists in all sectors of the media.
NCTJ accreditation is already highly valued by employers and provides a benchmark of best practice.
Describing the rationale for the changes, Joanne Butcher, chief executive, said: "As the media and education and training worlds continue to change, so too does the NCTJ. We're committed to innovating and regularly reviewing all aspects of our work, including accreditation. Our new approach involves a fundamental change of culture and different ways of working for the NCTJ and its stakeholders, and we are delighted that so many people have contributed their views and ideas to bring us to this point."
Andy Cairns, who is executive editor of Sky Sports News and chairs the NCTJ's accreditation board, said:
"Accreditation is based on exacting performance standards that are designed to guarantee high quality journalism education and training. It is against these standards that potential students can judge prospective courses and we must ensure they get real value and our full support."
Following a successful pilot last summer, the first centres to go through the new approach to accreditation were Highbury College, the University of Portsmouth and Brunel University. Brunel's accreditation included a new undergraduate academic-year course which is open to second-year undergraduate journalism students as well as students on other degree programmes who have successfully completed the NCTJ Certificate in Foundation Journalism.
The new approach is based on courses meeting seven performance standards:
Quality journalism education and training and results
Close industry links and practical up-to-date journalism experience
Professional delivery of the Diploma in Journalism
Commitment to diversity
Innovation, ambition and continuous improvement
Employability
Communication, collaboration and contact
The industry is playing an even more important role in monitoring accreditation standards, and employers have pledged to support centres that sign up to the NCTJ training scheme.
Industry advisers are being appointed for each centre during the two-year transition period which began in November 2017. Advisers confirmed for centres that have already been through the new process include:
| | |
| --- | --- |
| Brunel University | Will Gore, associate editor, The Independent |
| De Montfort University | Ben Green, head of digital, Sheffield Star |
| | Marc Reeves, editor-in-chief, West Midlands, Trinity Mirror |
| Fife College | Colin Hume, editor-in-chief, The Falkirk Herald and editorial director, Scottish Weeklies, Johnston Press |
| University of Gloucestershire | Stephanie Marshall, head of BBC West |
| | Rachael Sugden, senior editor Gloucestershire, Trinity Mirror |
| Highbury College | Laurie Tucker, journalism training, Sky Sports News |
| University of Lincoln | Sharon Hodkin, editor, Newark Advertiser |
| | Charlie Partridge, managing editor, BBC Radio Lincolnshire |
| City of Liverpool College | Maria Breslin, executive editor digital, Trinity Mirror Merseyside |
| Nottingham Trent University | Steve Hall, editor-in-chief, East Midlands, Trinity Mirror |
| | Mike Shallcross, editor, Independent Nurse and associate publisher, Mark Allen Group |
| University of Portsmouth | Mark Waldron, editor, Portsmouth News and Johnston Press Hampshire editorial director |
| Press Association Training | Suchandrika Chakrabarti, editorial trainer, Mirror Online |
| Sheffield College | Andrew Mosley, editor, Rotherham Advertiser |
| Staffordshire University | Martin Wright, editor, Shropshire Star |
A number of new appointments have also been made to strengthen the NCTJ's accreditation board. Those joining the board include: Karen Ballam, NCTJ chief examiner for shorthand and shorthand tutor at Bournemouth University; Nicole Garnon, editor of the South Wales Argus; Ben Green, head of digital at the Sheffield Star; and Mike Hill, course director at Cardiff University
All students on accredited courses will continue to study for the NCTJ Diploma in Journalism and will aim to achieve the industry 'gold standard'. However, with radical changes made last year to the structure and content of the diploma, and similar plans to change the National Qualification in Journalism and to introduce higher level apprenticeships, there will be greater flexibility and new opportunities for centres running accredited courses to develop their provision.
As accreditation manager, Emma Robinson, is the 'go-to' person for centres, editors and students on all accreditation matters. Emma, who joined the NCTJ on 23 April, was headhunted by the NCTJ for her senior journalism experience and award-winning journalism, and her passion for high standards of modern journalism. She was previously content and audience manager at Newsquest Essex, and before that she was a senior reporter at the Braintree and Witham Times and Halstead Gazette followed by deputy chief reporter and crime reporter.
Emma studied for her gold standard NCTJ diploma at the University of Sheffield and her NQJ, which she achieved with distinctions and two national awards, at the Maldon and Burnham Standard.
The NCTJ is also offering more continuing professional development and networking opportunities for course leaders and tutors. There are plans to increase the marketing and promotion of courses through a comprehensive careers information service to help students make informed choices about their courses.
Prospective students from diverse backgrounds who cannot afford their training can continue to apply for support from the Journalism Diversity Fund to do an accredited course. The NCTJ has paid centres and students more than £1.3 million in course fees and living expenses over the last ten years. Financial contributions to the fund from industry increased by 33 per cent last year to meet demand for this year's bursaries.
Click here for full details on becoming an NCTJ-accredited course.