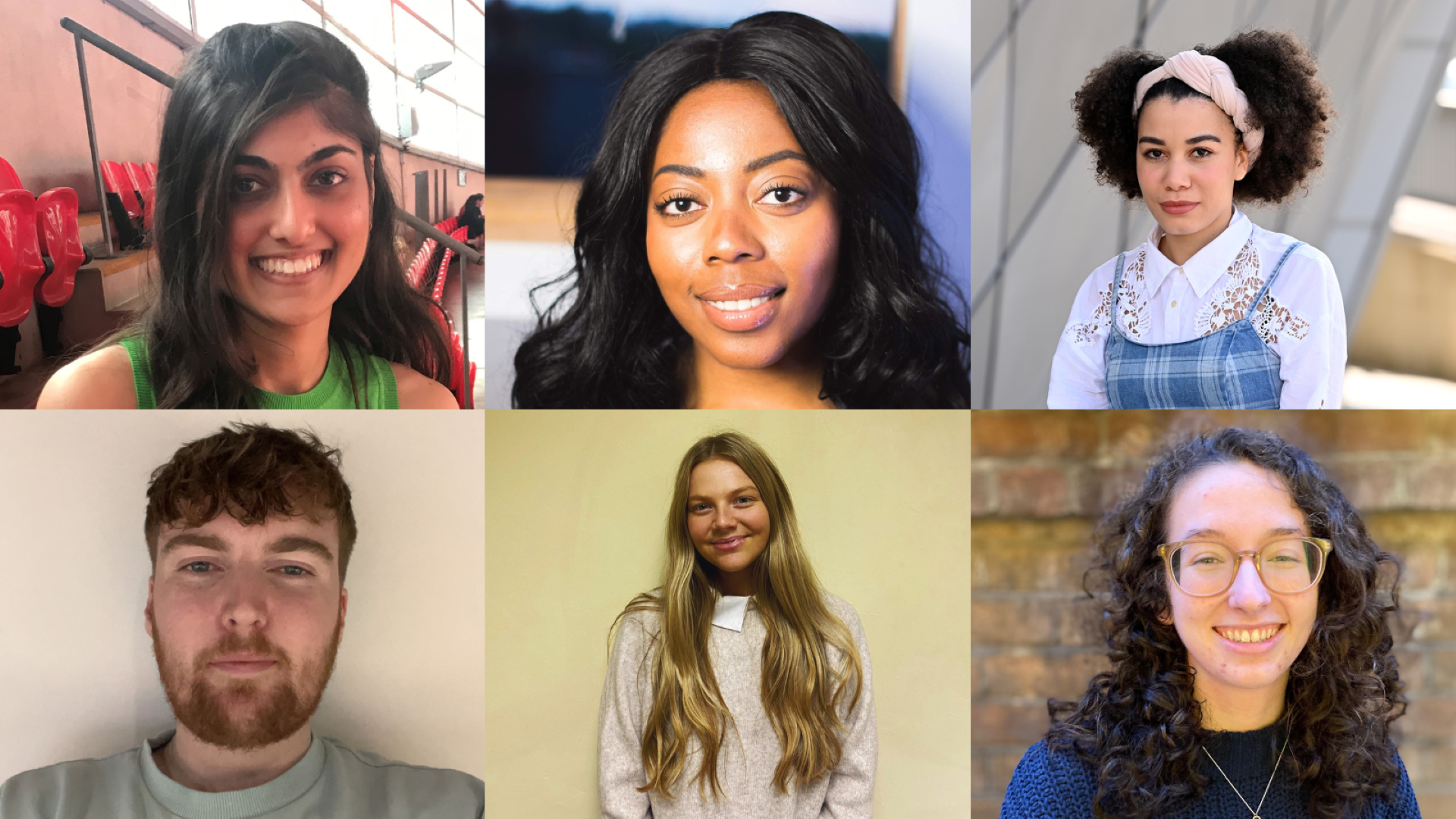 Meet the Apprentice of the Year shortlisters
As we approach the NCTJ's Awards for Excellence ceremony taking place on 2 March, we speak to the six apprentices up for the Apprentice of the Year award.
National Apprenticeship Week is taking place between 6-12 February, and the NCTJ is proud to support the campaign. Throughout the week, we will be sharing first-hand accounts from current and former apprentices, as well as employers, to demonstrate the benefits of journalism apprenticeships.
As we approach the NCTJ's Awards for Excellence ceremony taking place on 2 March, we speak to the six apprentices up for the Apprentice of the Year award. The award is presented to a nominated apprentice, who was on an NCTJ journalism apprenticeship scheme in the 2021-22 academic year. The shortlisted journalists speak to the NCTJ about their careers to date and what attracted them to a journalism apprenticeship in the first place.
Danielle Desouza, 24, started her apprenticeship with PA Media in January 2020 after completing an MA in politics and communications from the London School of Economics. She is now in a permanent role as a social media journalist at PA Media.
"I have known since I was 18 that I wanted to be a journalist but I wasn't really sure what type of journalist I wanted to be. The PA apprenticeship was the best thing for me because you get to work on all the different desks. I joined the social media desk in June last year, but I think if you had said to me at the start that I was going to be a social media journalist then I would have said absolutely not. I thought I would be rubbish at finding stories but for some reason it really clicked with me and I love finding my own stories.
"With the apprenticeship, you are thrown into the deep end with every desk you work on. On my second day on the video desk, I was asked to go out and film. I have also spent time on the news desk and picture desk.
"The thing I am most proud of when it comes to social media is that I really pushed for exclusive stories for Black History Month. Because I am a woman of colour and I come from an Indian background, it's really important to me to get those stories out there. It's nice to be in a place that lets you do that."
Tymiah Ford, 26, is an assistant producer at Times Radio and is currently completing her end-point assessment. She studied for her NCTJ diploma with PA Training.
"I started at Times Radio as an intern on the Government's Kickstart scheme during Covid, which was to help people get into work. I did six months at Times Radio and I did feel that because of the way I got into the industry, I felt that I was a bit behind in terms of my skillset, and my knowledge of media law, for example. That's how I found out about the apprenticeship and why I applied. I really wanted to get the NCTJ qualification. There's a lot you can pick up by doing the job, but to really succeed I needed that qualification.
"I really like working at Times Radio because it's a really good training ground. There's a lot of young energy and a lot of people get to progress quite quickly. As an assistant producer, we do everything really, from finding guests for shows, writing the scripts, writing the cues, putting questions to the presenter and making montages and audio."
Tamika Green, 24, who lives in Bury, is a reporter at the Bury Free Press and Suffolk News. She finishes her apprenticeship next month and is studying for her NCTJ diploma with Darlington College.
"I had finished university and was working in a supermarket when I was looking for journalism opportunities. I always wanted to go into journalism but I didn't know if I could afford to pay for an NCTJ course. I originally saw a community reporter role come up and I saw that I could study for my NCTJ qualification, I was excited to see that.
"I applied and got the job but it wasn't a good fit for me, so I ended up moving over to the Bury Free Press and Suffolk News. I have lived in Bury all my life so I already had links to the area and was writing a Black Lives column for the paper.
"Getting that NCTJ training was important to me as it's a great qualification to have under your belt. So far, it's going really well. It's been tough at times – studying and working – but I find it a real sense of achievement when I have passed my exams. I've passed Essential Journalism and Public Affairs and I've been excited to pass those because a lot of hard work has gone into them.
"In my journalism, I really care about portraying people of colour. I have wanted to bring that representation into journalism and bringing that into the community. I want all children to see that there are people that look like them in the media."
Daniel Kane, 21, from Essex, started his apprenticeship with talkSPORT in December 2020, finishing by July 2021. He studied for his NCTJ diploma with PA Training and is now in a permanent role as an assistant producer.
"When I finished school, I didn't know what I wanted to do but I knew I didn't want to go to university. I was in limbo for a while and then I saw the apprenticeship come up online. I thought I would go for it.
"I thought journalism wasn't a career that was open to me because nobody at school discussed that career path and I didn't know what to expect. When I was reading through the advert, I thought that it would suit me. I had never explored a career in journalism before that and then I started looking into it. That one job advert kickstarted my interest in journalism.
"I had never been in a newsroom before I joined talkSPORT. The apprenticeship was three six-month stints in the three main departments – programming, social media and audio. I found my passion in programming and am now an assistant producer on the drive time show.
"My advice to anyone considering a journalism apprenticeship is to be open to opportunities, because there are so many different avenues for people to explore. If I had said no, I wouldn't have found my niche. The whole purpose of an apprenticeship is to experience the career path of your choice."
Georgia Langdon, 25, lives in Prudhoe and is a multimedia reporter for the Hexham Courant, covering a variety of stories across Northumberland. She studied for her NCTJ diploma with PA Training and has since also achieved the Level 7 National Qualification in Journalism.
"I went to the University of York and studied English language and linguistics and I thought I wanted to study English abroad. After I graduated, I went home to Newcastle and I was a bit unsure of where I wanted to go after that. I did a placement in a school at university, it wasn't the right fit for me and it totally put me off.
"I was always interested in writing and my mum saw the advert in the local paper. It was asking for the NCTJ qualification, which I didn't have but I thought I would go for it because I am local to the area and I am really eager to learn. I went for it and they said they would like to put me through the apprenticeship. I did wonder whether it was a step back after graduating from university, but I am so glad I did it because it was the best way for me to learn.
"It was my lecturer that nominated me for the award, and I was really shocked to make the shortlist. It was a nice surprise. Just to be recognised at the start of what I hope is a really long career is really good. I do struggle with confidence sometimes, so to have this boost is great. I am really proud to get on the shortlist."
Lauren Pinkney, 24, from Chiswick, is in a permanent role as a producer at Sky News following her apprenticeship, which began in August 2020. She studied for her NCTJ diploma with PA Training.
"I studied economics at the University of Nottingham but I always had an interest in going into journalism. I graduated in 2020 and looked at apprenticeships with a few different broadcasters. I applied to the Sky News apprenticeship not knowing what was going to come out of it.
"I started the apprenticeship in August 2020 and went straight into the training with PA Training. It was quite immersive and intense to learn everything in four months. The tutors were really supportive and knowledgeable. I really enjoyed knowing that at the end of it, I would be going into the newsroom to put it all into practice.
"I started at Sky News in January 2021. I got started on the podcast team for the first six months, then I moved to the TV team, then I did online writing, then video production, then data and investigations.
"After that I applied to be a permanent video producer and moved seamlessly into having a job there. I have been working in that role since August 2022. We make videos for social media and online and my aim is to make more sophisticated edits and documentary-style videos.
"I think the best part of an apprenticeship is being able to find your passion because then you know what you want to do. In a normal role, you don't usually get the opportunity to move around. I feel quite lucky I have been able to do that."