Journalism Skills Conference 2018 day one: Data journalism and keeping safe are crucial, and the magazine industry still has plenty of potential
NCTJ chairman Kim Fletcher welcomed delegates to the 2018 Journalism Skills Conference on Thursday, 29 November, which took place at Harlow College in Essex – the oldest NCTJ centre.
NCTJ chairman Kim Fletcher welcomed delegates to the 2018 Journalism Skills Conference on Thursday, 29 November, which took place at Harlow College in Essex – the oldest NCTJ centre.
He said: "The constant is around standards and quality, however much journalism changes". He also stressed that people place a premium on journalism you can trust.
Karen Spencer, principal of Harlow College, also welcomed delegates, and said: "The young people we're working with are having a very different experience from previous generations, and that creates a lot of challenges for educators. It's very difficult for people to make discerning judgments, and that's why journalism is increasingly important."
Bloomberg data visualisation editor Jeremy Scott Diamond led a panel on data journalism and graphics, which focused on how to source and decipher raw data and turn it into an eye-catching and insightful story.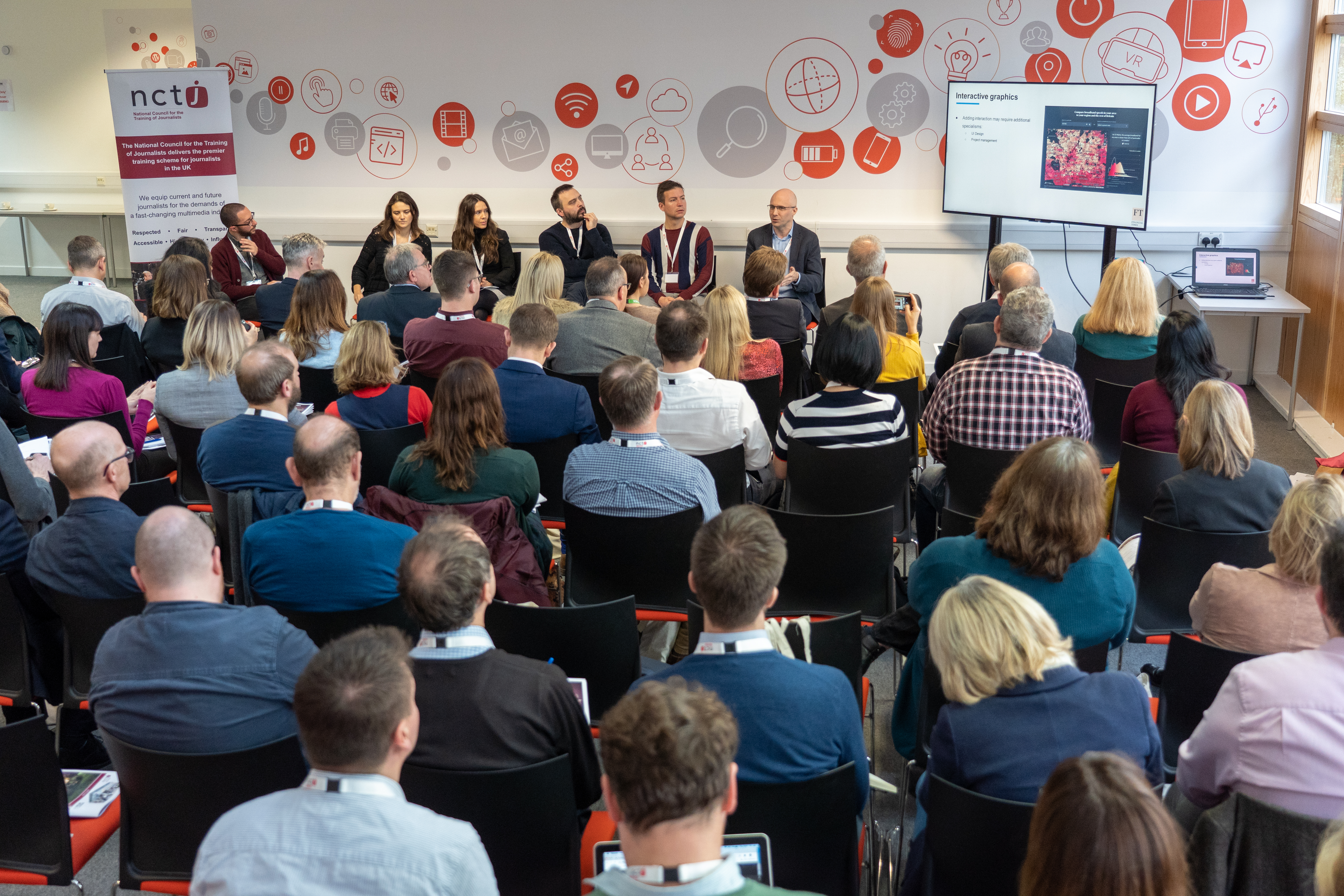 Leila Haddou, data journalism editor at The Times and The Sunday Times finds stories using data analysis and programming. She gave examples of data-led stories about the care home crisis, which was extracted from a massive dataset, and the passwords of ministers being sold on the dark web.
She said: "We are using data in a way to be more efficient in our investigation. Data makes you very good at advanced internet research."
David Ottewell is head of data journalism of a team of 12 at Reach, finding news and data for regional and national titles. Ottewell gave five essential data journalism tips for journalists: One, know your data – there is no excuse to not know where your data is published – and be proactive. Two, know how to use spreadsheets – for example, pivot tables. Three, have a good investigative idea that resonates with audiences. Four, tell stories: Data can tell you what's happening but not necessarily why it's happening. Five, visualise with a purpose and be aware of what can be built.
Pete Sherlock explained the launch of the BBC Shared Data Unit, of which he is head, and described the BBC's local news partnerships, where they provide a three-month course for local journalists.
Sherlock said, "Data interpretation should be part of every journalists' toolkit. There has been a shift from being hunter-gatherers to information being dispersed everywhere, and the journalist's role is trying to discover what's pertinent."
Martin Stabe, head of interactive news at the Financial Times, said in regard to sourcing data: "Recognise what the databases on your beat are – what data do they collect and why?"
Diamond asked whether the data journalism field has gender parity, with Holder saying it probably attracts more men, and perhaps it needs rebranding to attract women. Haddou felt that there are a lot of women in data journalism, but that the programming world is male-dominated.
Next up was Facebook's training and news literacy manager Sarah Brown, who explained the Facebook Journalism Project, which is now in more than 20 countries. She then discussed vertical viewing on social media, and how social platforms and video is helping publishers engage with their audiences, pointing out that 98% of time spent on mobile is vertical.
In order to provide good video content, she explained: Write well branded and comprehensive post descriptions; share the link on all your social channels; publish on a regular schedule; encourage viewers to follow your page; ensure people know what to come to you for; and respond to comments and questions.
Nick Wrenn, Facebook's head of news partnerships, EMEA, and NCTJ chief executive Joanne Butcher then took questions about the Community News Project, which will enable the hiring of around 80 diverse community journalists around the UK in collaboration with five news publishers.
Butcher explained, "[The donation] can only be spent on training and qualifying community journalists from a diverse range of backgrounds. The publishers will lead on recruitment. It is very much a pilot that we want to make a success."
Jo Webster, managing editor for strategy and operations, EMEA, at Reuters, chaired a panel that discussed keeping safe as a journalist, and how to deal with trauma and preserve mental health.
Colin Pereira, journalist safety specialist at the Committee to Protect Journalists, said, "We are increasingly working with younger journalists who don't know how to do risk assessments. But those risk assessments can save their lives. Yet freelancers don't have the infrastructural care."
Angelina Fusco, independent training consultant and former editor of TV News at BBC Northern Ireland, discussed her experiences of working in Northern Ireland during The Troubles. She said "We had to [interview victims and survivors] in Northern Ireland. Everything they tell you may not be completely truthful, but you have to hear their story, and we have a responsibility to tell their story'.
Dr. Karen Fowler-Watt, associate dean of Bournemouth University, who is on the board of Dart Center of Journalism and Trauma, said of how the journalism training curriculum is changing in response to dealing with trauma.
She said: 'We were not providing training for industry professionals, and Dart wanted active role models. So Sandra [Laville] and Angelina [Fusco], for example, have shared their knowledge with my students in order to help equip them for the future."
The final panel of the day, which was chaired by Mark Allen, executive chairman of the Mark Allen Group, explored the future of magazines and what journalists need to do in order to keep magazines current and thriving.
Mark Allen said: "I still believe very firmly in magazines and their future, but we need to think creatively and flexibly to ensure they are successful. Content should be first, second and third. I am agnostic about whether the magazines are delivered in print or online. The world is crying out not only for good journalism but also for good magazines."
Hannah Fernando, group brand editor of TI Media, said: "Resilience is key. I believe there is a place for magazines in 10 years' time, but they'll be a little bit different. Content has to be king. We have to be bold and brave and see the future as an opportunity."
Julian Read, editor of Essex Life, said: "The experience of sitting down with a cup of tea and a glossy magazine is still sellable, and that is why they'll still be around in 10 years' time. Digital and print provides a cross-sector so you can deliver a broad package for both readers and advertisers.
"The critical factor will be whether magazines are still profitable. Businesses are still crying out to speak to their audiences. Events help us join the dots."