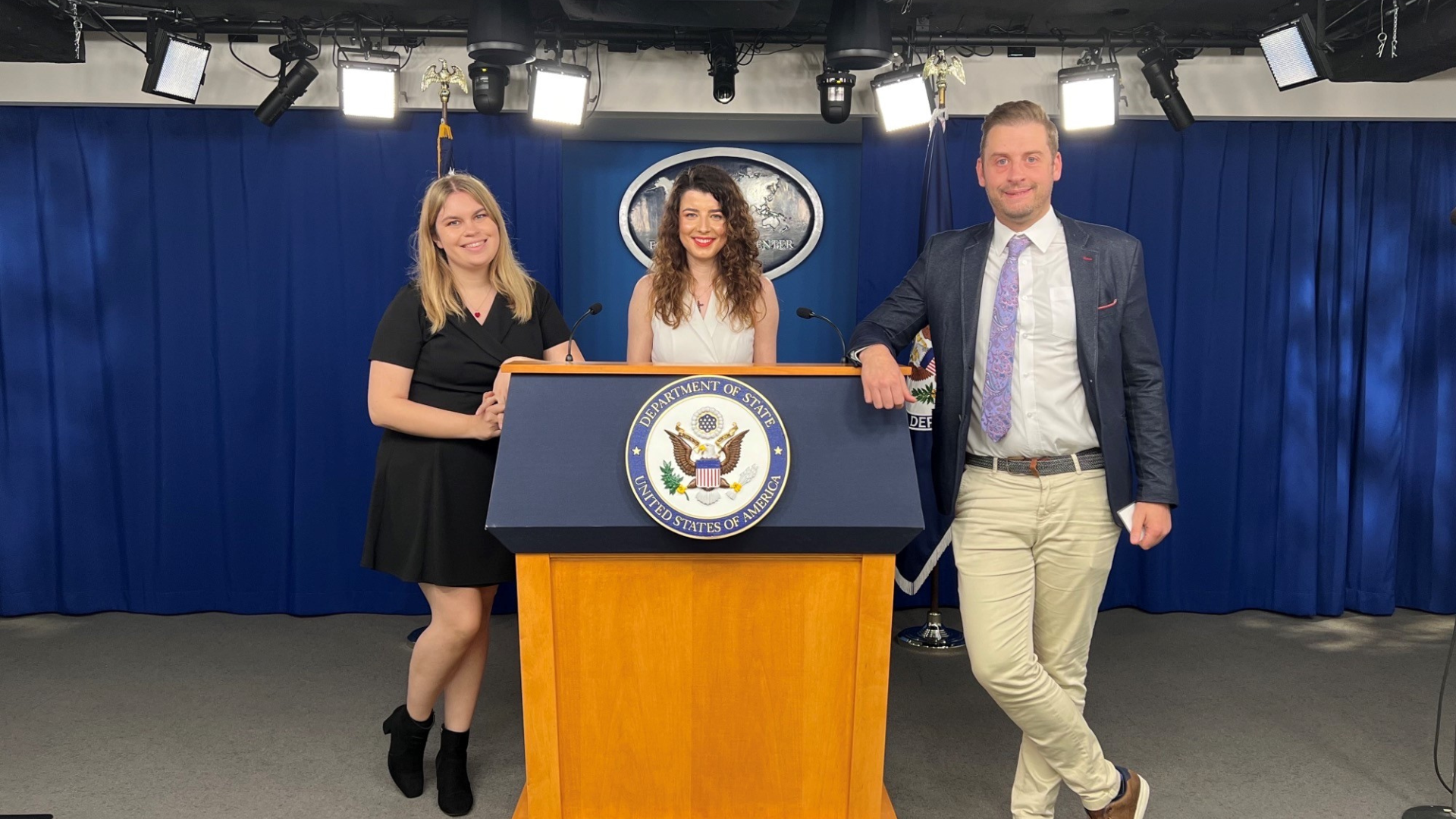 Journalism Diversity Fund recipients take part in reporting tour of United States
Five NCTJ alumni have participated in a reporting tour of the United States, thanks to a partnership between the U.S. Embassy in London and the Journalism Diversity Fund (JDF).
Five NCTJ alumni have participated in a reporting tour of the United States, thanks to a partnership between the U.S. Embassy in London and the Journalism Diversity Fund (JDF).
The Embassy offered the opportunity to journalists who had been supported by the JDF in the last five years and who have successfully moved into roles within the news media industry. The five successful applicants were selected from a very strong field of candidates.
Anita Langary, from BBC News, Rebecca Banovic from Sky News, Thomas Grant, a reporter with the Clydebank Post and other Newsquest titles in Scotland, Joshua Salisbury from the Evening Standard, and Sophia Alexandra Hall from Classic FM spent 10 days in America, visiting sites in Washington DC, Minneapolis in Minnesota and Phoenix, Arizona.
Reflecting on the tour, Rebecca Banovic said: "Thank you for giving me a life-changing opportunity in an industry that has an accessibility issue for those of us from working-class backgrounds. This trip (and the JDF scheme) is helping tackle institutional barriers on so many levels.
"We've got a long way to go in terms of making the industry better but this is definitely one step in the right direction and I can't thank you enough for choosing me. The White House visit is something I will never forget and will tell my grandchildren about."
Sophia Alexandra Hall said: "Over the course of 11 days, we had around 20 briefings organised for us with journalists, academics, non-profit founders, and government officials. This was interspersed with travel across three states, regular covid testing, a lot of good food, and unexpectedly, an invite to the White House!
"Alongside the program, I made time to go out and interview a host of voices while in America. I've come back to Classic FM with a multitude of diverse stories from across the states; some of the interviews I did inspired me, some made me cry, some made me angry and hungry to find out more. All of them were insightful, and along with the context of being in the country, helped improve my knowledge of how I approach coverage of US issues.
"I made such strong friendships with the other journalists because of how much of a 'once-in-a-lifetime' type of experience this was. I think we all feel an immense amount of privilege for having had this opportunity."
Anita Langary said: "I want to give a massive thank you to JDF for giving me the once in a lifetime opportunity to report in the U.S. There is no denying the barriers to entry for working class ethnic minorities, but this scheme and their support removed those obstacles for me. The trip has given me invaluable tools to progress in my career and without the JDF I would not be where I am today, and for that, I will always be grateful to them."
The Diverse Perspectives Reporting Tour was funded by the U.S. Embassy in London and implemented by Meridian International Center, with the intention of introducing early-career journalists from the UK to the United States, and particularly to debates surrounding the nation's diversity, government systems, and its ability to combat climate change and to emerge successfully from the COVID-19 pandemic.
Aaron D. Snipe, U.S. Embassy spokesperson, said of the project: "We have such enormous respect for journalism as one of the great pillars of democracy around the world. This reporting tour is an opportunity to see the United States up close – our strengths and where we aspire to do better – and develop a deeper understanding of who we are. We hope this tour inspires a continuing dialogue on the issues that really matter."
Will Gore, head of partnerships and projects at the NCTJ, added: "It has been wonderful to see how much the participants have gained from their experience, and it has been fantastic to work with the U.S. Embassy on this project. As the Journalism Diversity Fund evolves, we are able increasingly to support the scheme's alumni well beyond their initial training, and to work with an ever-growing range of partners to enhance the JDF's scope and success."
The Journalism Diversity Fund was established by the NCTJ in 2005 with an annual £100,000 grant from NLA Media Access to enable people from diverse and financially disadvantaged backgrounds to complete the Diploma in Journalism. It is now supported by 27 media organisations, and in the last two years alone the JDF has awarded over 100 bursaries. All bursary recipients also benefit from mentoring and a range of exclusive insight opportunities.