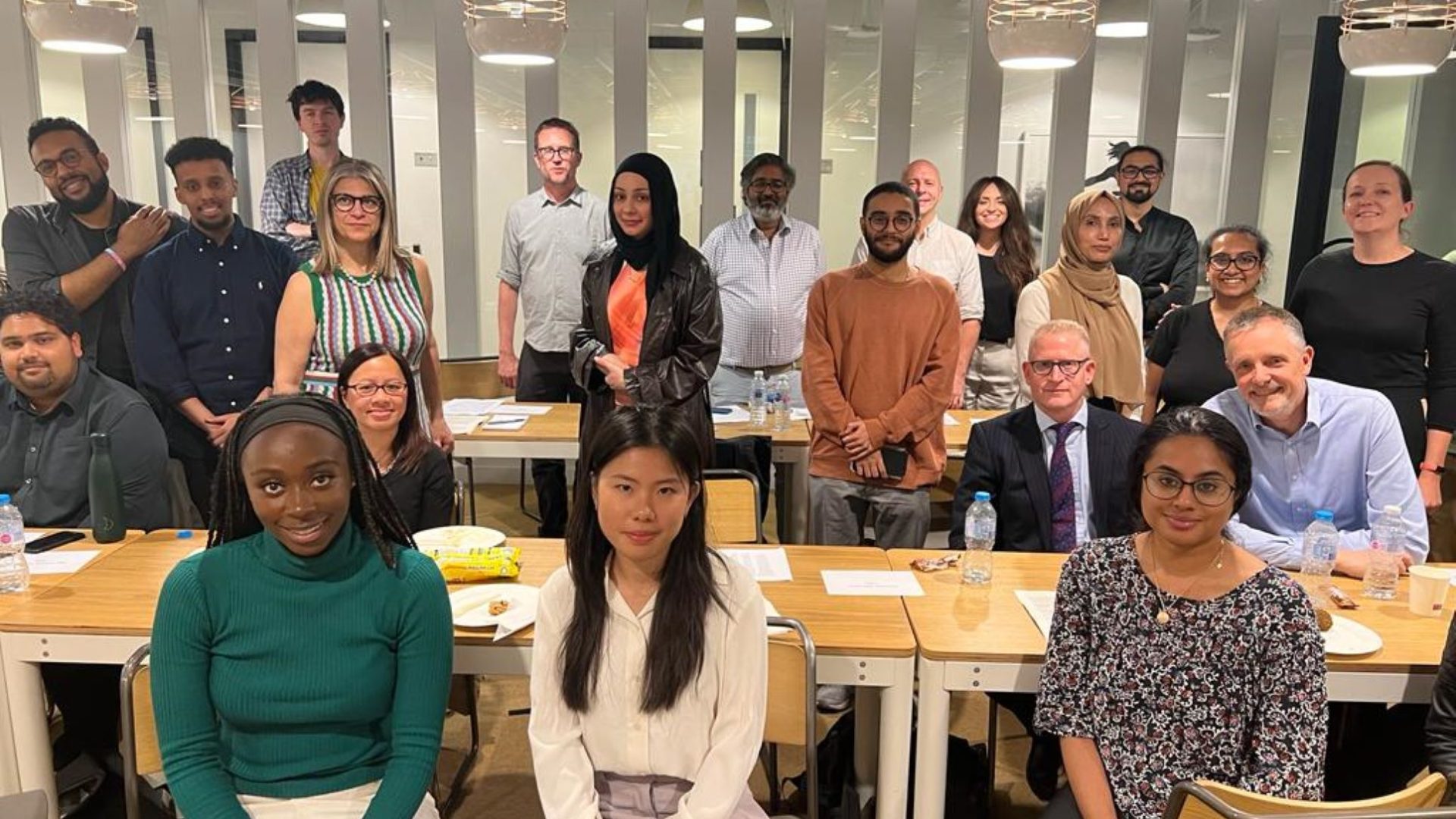 Journalism Diversity Fund recipients gain exclusive insight into business journalism at speed-mentoring event
Recipients of the Journalism Diversity Fund (JDF) gained exclusive insight into the world of business journalism during a speed-mentoring event with top reporters and editors in the UK.
Recipients of the Journalism Diversity Fund (JDF) gained exclusive insight into the world of business journalism during a speed-mentoring event with top reporters and editors in the UK.
Hosted by Insider in collaboration with the JDF, the two-hour event brought together six diversity fund recipients with an interest in business reporting and 12 business journalists representing companies supporting the JDF.
Held in London last night, the event gave the students and early-career journalists an opportunity to have a 10-minute quick-fire session with each journalist to learn from them and gain advice.
Business journalists in attendance included Robert North, executive producer at CNN Business, Grace Dean, senior reporter at Insider, Nicholas Petche, editor-in-chief of Yahoo UK, Bloomberg journalist Lisa Pham and Mehul Srivastava from the Financial Times.
Former JDF recipient Yusuf Khan, who is now a reporter covering commodities for Dow Jones Newswires and the Wall Street Journal in London, also joined the event to offer his experiences to current recipients.
The event was also attended by six other early-career journalists who have connections with Insider and wanted to learn more about business journalism.
Jackie Bischof, managing editor for business at Insider, said: "Powerful career advice and career-defining connections don't have to be contained to formal workplace programmes or codified mentoring relationships.
"Sometimes, mentorship can happen in minutes. This thought inspired Insider and the JDF's first 'speed mentorship" event. Over the course of two hours, 12 early-career journalists were given the unique opportunity to connect with 12 professional journalists and editors for ten minutes each to ask questions about their careers, trajectories, and advice for getting into journalism.
"The event focused on business journalism, which has traditionally struggled to be an inclusive and representative space. The relaxed environment and fun format allowed students to have focused and meaningful conversations with a range of incredible reporters from organisations such as Insider, Bloomberg, the Wall Street Journal, the Financial Times, Dow Jones, CNN Business, and Yahoo.
"We're so pleased we could host this event with the Journalism Diversity Fund and look forward to trying this style of event in the future with students interested in news and lifestyle journalism."
Emily Sexton-Brown, managing editor (news, life, distribution and video UK at Insider), also helped organise the event and said: "I think everyone has got a lot out of it. The mentors are fantastic, giving up their time, and the mentees have asked so many questions. They are going home with their heads full of information, contact details and tips – everything an early-career journalist would want to know."
Nikki Akinola, senior diversity and inclusion co-ordinator at the NCTJ, said: "It was great to see the dedication from our supporters at Insider to making a real impactful difference to the future career of the JDF recipients.
"Being able to have some real one-on-one time with a senior editor or senior journalist is second to none. You only ever get that time during an interview.
"This allowed for honest dialogue from all parties with the outcome being a very successful experience for all involved."
JDF recipient Noni Needs, who is currently studying for her Diploma in Journalism at City of Portsmouth College, said she the event helped her dispel her fears about entering the business journalism sector.
She said: "I was very nervous about coming along because I feel I might not be the right person to cover business but, of course, as a journalist you can cover all topics if you ask the right questions.
"Talking to everybody here, it's dispelled a lot of my fears and given me confidence to write for the business sector. It was really worthwhile, I very much enjoyed it and I got lots of advice from very interesting people."
Daniel Fessahaye, who studied for his diploma at News Associates in London and is now a full-time freelance reporter for MailOnline, said he attended the event as he is looking to break into the field of finance journalism.
He said: "I thought the event was great. We met journalists in different positions – some senior, some starting out across many different companies. I learnt a lot, including career advice about what to look for in business journalism and how to navigate your way in."