ITV's Charlene White presents NCTJ diploma exam awards at annual Student Council
Nine students are reaping the rewards for their hard work in the Diploma in Journalism exams after being presented with prizes at the annual NCTJ Student Council meeting in London.
Nine students are reaping the rewards for their hard work in the Diploma in Journalism exams after being presented with prizes at the annual NCTJ Student Council meeting in London.
The awards were presented to the top-performing students in the NCTJ diploma exams during the 2014-15 academic year at a ceremony hosted by journalist and ITV News presenter, Charlene White. Each award-winner received a certificate and a cheque for £250 at the event on Friday, 5 February, which was hosted by Google UK.
This year was the first-time a NCTJ distance learning student scooped a win in the diploma awards. Tanita Cross picked up the award for the best performance in essential media law and regulation. Presenting the award on behalf of Oxford University Press was Amanda Ball, NCTJ principal examiner.
On receiving her award Tanita, a General Medical Council digital content officer, said: "I was delighted to win the award for best essential media law exam, particularly as a distance learner. Passing the exam made months of juggling work and study worth it, but winning the award put the cherry on the cake. It's also given me a boost in confidence for my next set of exams.
"My advice to other distance learners is to give yourself time to read and absorb all of the information before trying to take notes and revise. And always remember to give yourself a break! You won't learn anything on four hours sleep a night."
History was made a second time at the Diploma in Journalism awards with the first double win. Conor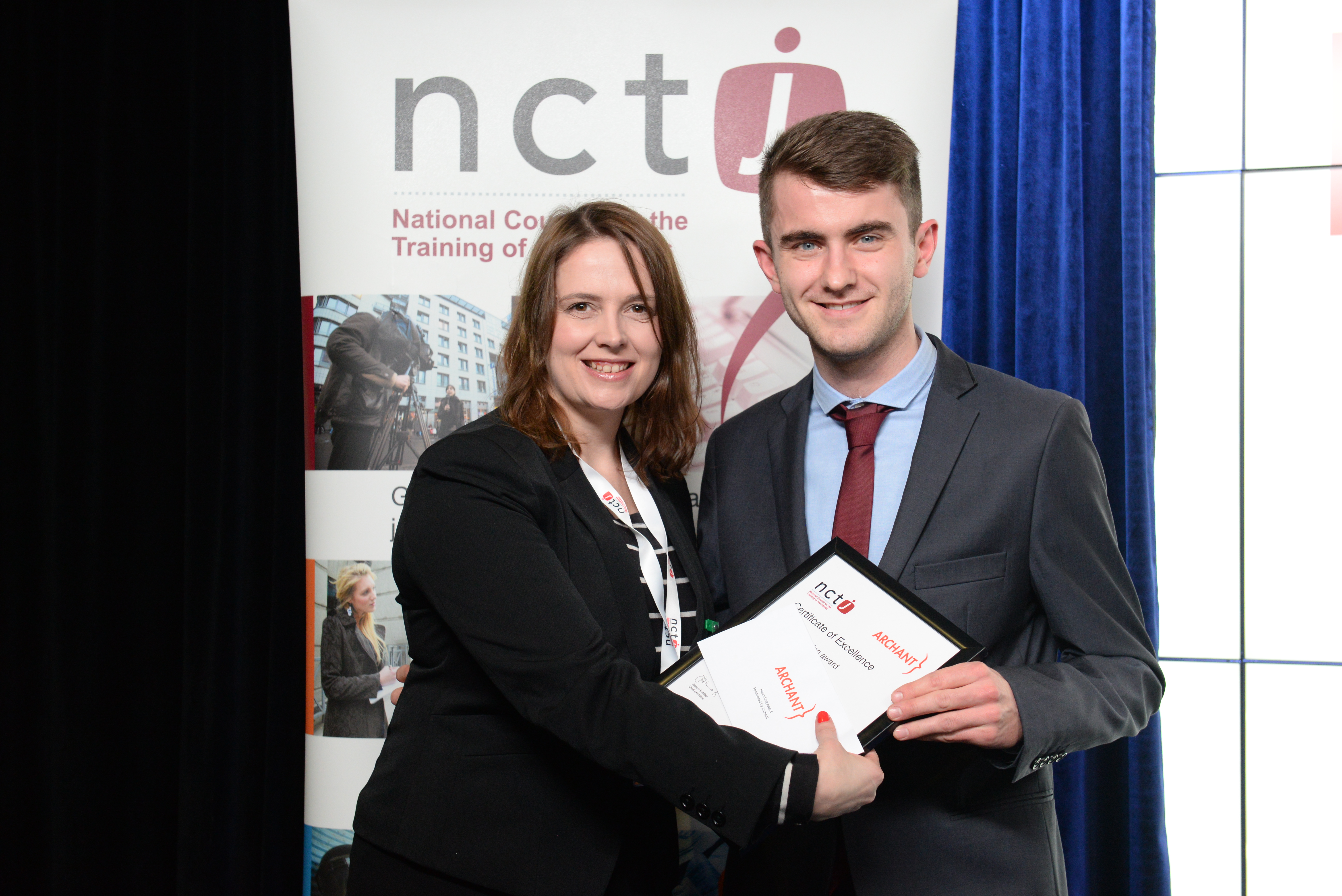 Gaffey, who studied at News Associates, London and was also highly commended at the 2015 Awards for Excellence, picked up two awards. The first for his performance in the reporting exam was presented by Archant editorial director, Laura Adams. He picked up his second for the best and fastest shorthand note at 110 words per minute (wpm). This was presented by Andy Cairns, executive editor at Sky Sports News.
Conor said: "It's a privilege to win these two awards. It makes all those hours spent poring over a shorthand pad on the Victoria line worthwhile! Getting my NCTJ at News Associates has set me up for my career and I've been able to develop those reporting skills at Newsweek Europe. My advice for future students is: Don't be shy, ask advice from all the people you can, and think calmly under pressure. And enjoy it, journalism is a great laugh!"
James Gray was presented with the HoldtheFrontPage award for production journalism by Matt Cooke,
Google News Lab lead for UK, Ireland and Nordics. James, a News Associates, Manchester graduate, said: "After freelancing for the summer and taking up an internship with Sportsbeat in London, I was offered a job on the sports desk at the Express and have been there ever since.
"I was delighted and quite surprised to win the award as after the exam I was fretting about headlines for ages afterwards. But I must have been well-taught by David Keane and everyone at News Associates, Manchester and this result is a testament to that more than anything else.
"Attention to detail was the thing that I learned was the key to strong subbing, and endlessly practicing writing headlines at speed so that by the end I was able to produce them accurately and quickly as opposed to one or the other."
The ITV News award for broadcast journalism went to George Torr for achieving the best combined result in the broadcast exams while studying at The Sheffield College. He was presented the award by Charlene White.
George, a multimedia journalist at the Sheffield Star, said: "I was shocked when I found out, I was typing up some court copy when the news came through. It's nice to be recognised in this way, I was really surprised but I'm also very proud of the award."
Giving advice to future students, he said: "Don't give up. It's really daunting when you start out and you're trying to break into your first job. But if you have the skills behind you and the tenacity to succeed then you'll get there.
"Work experience is crucial and you'll pick up lots of skills away from your studies that will put you in a good position for the future."
The Mark Allen Group business of magazines award was won by Smitha Sadanandan from Lambeth
College. Representing the group was chairman Mark Allen, whose portfolio includes over 60 magazine titles and brands. Smitha said: "I am so grateful to be awarded the Mark Allen Group prize for the best business of magazines exam 2014-2015. It is very humbling.
"I had not aimed at a win while preparing for the exams. So, when I received the email informing me that I had won, I was in for a bit of a shock and pleasant surprise. I am very happy and so is my husband, Rejeev, who coaxed me to enrol on the course.
"The business of magazine course at Lambeth, I hope, will help me get ahead in my profession later on, as this is an accredited course from the highly regarded NCTJ. Also, being on the course has indeed been an enriching experience for me."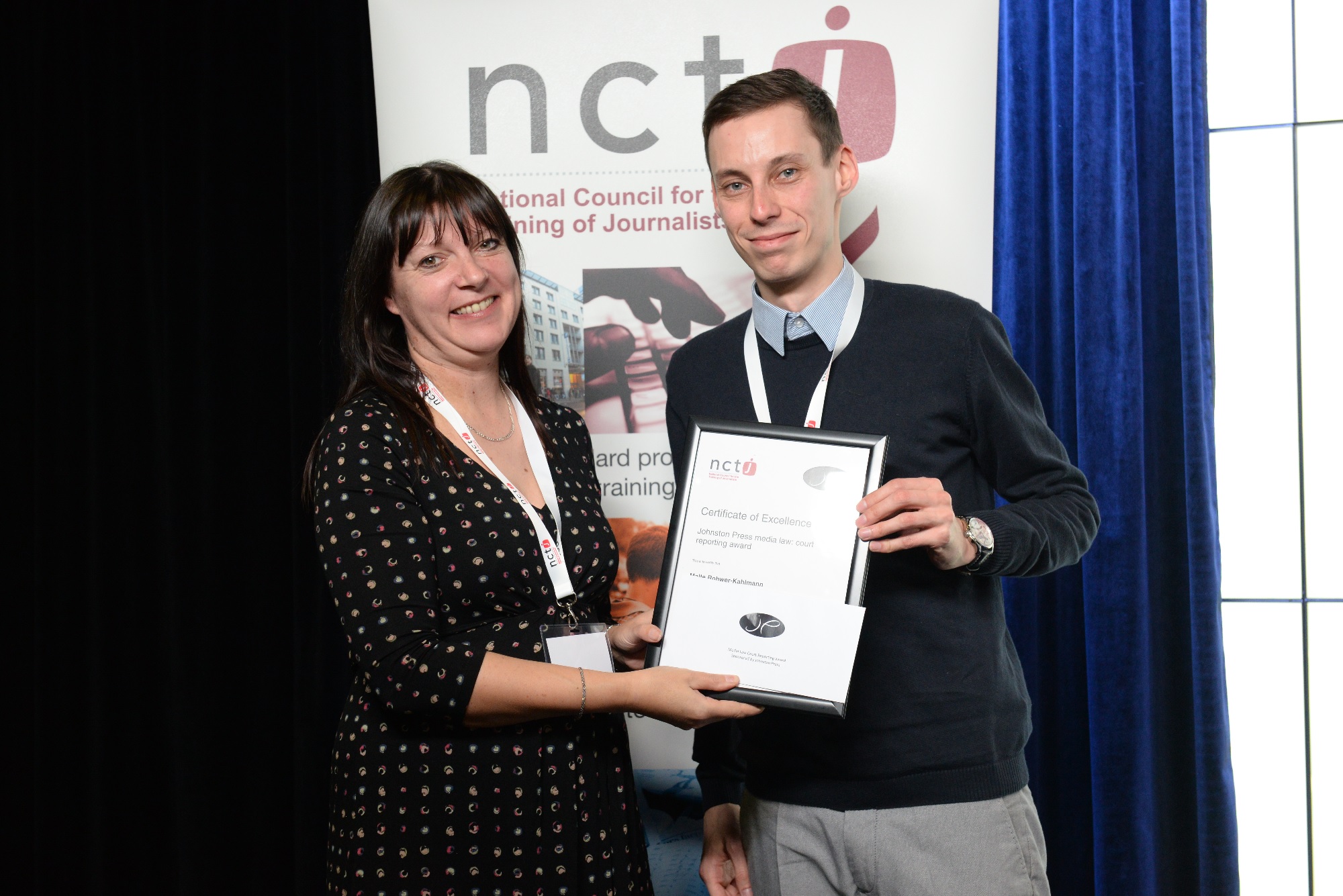 The Johnston Press award for court reporting went to former University of Sheffield student, Malte Rohwer-Kahlmann, an intern at Deutsche Welle. He received his award from Johnston Press editorial trainer Sarah Lucas. He said: "I was really surprised when I heard I won the award, I didn't expect it at all. Of course I knew I had scored a very high mark but – to be honest – I wasn't aware there was an award for that.
"I've always enjoyed the court reporting classes throughout my course, mainly thanks to my lecturer Mark Hanna. He really knows how to make a subject many find rather dull very interesting."
Adrian Williams, an LGBT and environmentalist blogger, was delighted to win the Mustard TV award for
videojournalism. The Brunel University student said: "When I first learned about the NCTJ videojournalism module, I was so daunted – the task seemed insurmountable. But by simply pacing myself and being patient with my own mistakes, I achieved more than I ever could have guessed. It has boosted my confidence, I'm ready for the next challenge; I welcome it, and the things it will teach me about myself."
Laura Drysdale won the essential public affairs award, the second sponsored by Oxford University Press. She also received her prize from Amanda Ball, saying: "I was completely shocked to win an NCTJ prize for my performance in the public affairs module. It reflects a lot of hard work trying to get my head around the quirks of our country's public bodies and key political issues and debates.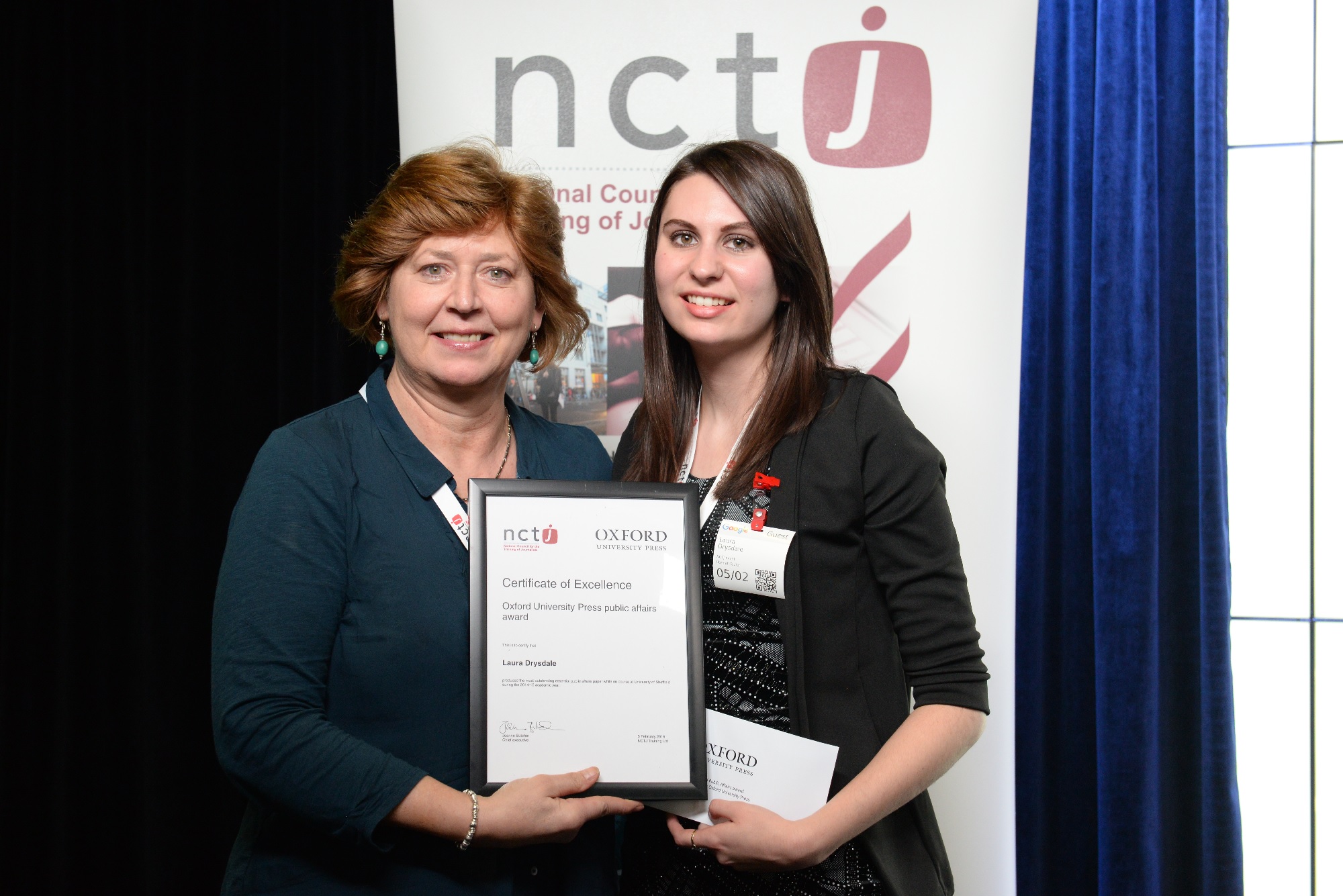 "Since finishing my postgraduate course in print journalism at the University of Sheffield, I have been working as a news reporter across several Johnston Press weekly titles in West Yorkshire.
"Every week, I am putting knowledge from the public affairs module into working practice. To future journalism students, I'd say make sure you use your course to get a really good grounding of basic news reporting principles, law, ethics and public affairs and alongside what you are learning, try to get as much work experience as possible putting the skills and knowledge into practice."
The Society of Editors' award for an impeccable performance in the 100 wpm shorthand exam went to
Georgina Moore who studies at the University of Portsmouth. She said: "To win the shorthand award is an absolute honour, I am so very grateful to the NCTJ for selecting me. I couldn't quite believe it when I received the email but I am over the moon. I am ecstatic the hours of practice I put in paid off. I couldn't have achieved this award without the support of my shorthand teacher, Gill Wray, thank you for believing in me.
"My advice to future students is to treat your studies like a full time job and eventually you will achieve more than you ever thought possible.
"As I am due to graduate from my journalism course in the summer, I am looking forward to putting my shorthand skills into practice."
The full list of award winners is as follows:
Broadcast journalism award sponsored by ITV News
George Torr, The Sheffield College
Business of magazines award sponsored by Mark Allen Group
Smitha Sadanandan, Lambeth College
Essential media law award sponsored by Oxford University Press
Tanita Cross, distance learner
Essential public affairs award sponsored by Oxford University Press
Laura Drysdale, University of Sheffield
Media law court reporting award sponsored by Johnston Press
Malte Rohwer-Kahlmann, University of Sheffield
Production award sponsored by HoldtheFrontPage
James Gray, News Associates, Manchester
Reporting award sponsored by Archant
Conor Gaffey, News Associates, London
Shorthand 100wpm award sponsored by Society of Editors
Georgina Moore, University of Portsmouth
Shorthand 110wpm award sponsored by Sky Sports News
Conor Gaffey, News Associates, London
Videojournalism award for online sponsored by Mustard TV
Adrian Williams, Brunel University