High-flying alumni offer NCTJ students advice
London Evening Standard online journalist and former diversity fund recipient Alexandra Rucki shares her advice with current NCTJ students.
Two former diversity fund recipients offered their words of wisdom to aspiring journalists on NCTJ courses at an event in News UK, London on Friday, 6 February.
Robert Payling, sub-editor, Sky Sports News and Alexandra Rucki, online journalist, London Evening Standard sat on a panel along with Lauren Potts, broadcast journalist, BBC Online to be quizzed by 41 student representatives from accredited courses as part of the annual Student Council forum.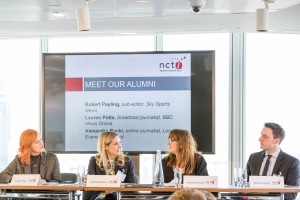 Robert, who finished his course in Sheffield before moving to London to work on the Sky Sports News graduate scheme, said: "When you're going to look for your first job, be prepared to move. Unfortunately a job won't always appear on your doorstep." He was successful in gaining a place on the scheme against 500 other applications.
His top tip for those interested in the broadcaster's graduate scheme was to make sure you could show passion for your subject, whether that be politics, law or sports.
Robert reminded students that the news did not stop for sleep as he would typically start work at two in the morning for a programme that broadcasts at 6am. He works on one of five production teams with responsibility for writing stories and editing interviews for programmes such as Good Morning Sports Fans and Sky Sports Today.
Much of Robert's time is spent on the newsdesk which requires strong editorial judgement on stories, a hunger to chase down leads, and an ability to build up contacts throughout the sports industry. He also works in the gallery as a co-producer, helping deliver breaking news as quickly as possible.
Alexandra said the change of pace was the biggest adjustment when moving from a local to a regional paper. She swapped weekly deadlines for the more immediate requirements of the 24-hour news operation. Alexandra
advised anyone looking for a job in online journalism to pick up skills through work experience for websites of newspapers as well as the news apps to get to grips with the fast turnover whilst also learning more about content management systems.
Last Spring, Alexandra Rucki was listed as the second top reporter to follow on Twitter by Press Gazette.
In 2010 she was awarded a bursary from the Journalism Diversity Fund to help pay her tuition fees and living costs while studying the print journalism MA course at the University of Sheffield. One week after handing in her dissertation she started working as a trainee reporter on the Wandsworth Guardian, covering the London riots, gang crime in Battersea and the London 2012 Olympics.
After sitting the National Qualification in Journalism (NQJ) she was promoted to a senior reporter position. Currently, she covers breaking news and works quickly to upload copy while scouring social media websites for original stories.
On Twitter? Follow Robert @skyrobpayling and Alexandra @AlexandraRucki