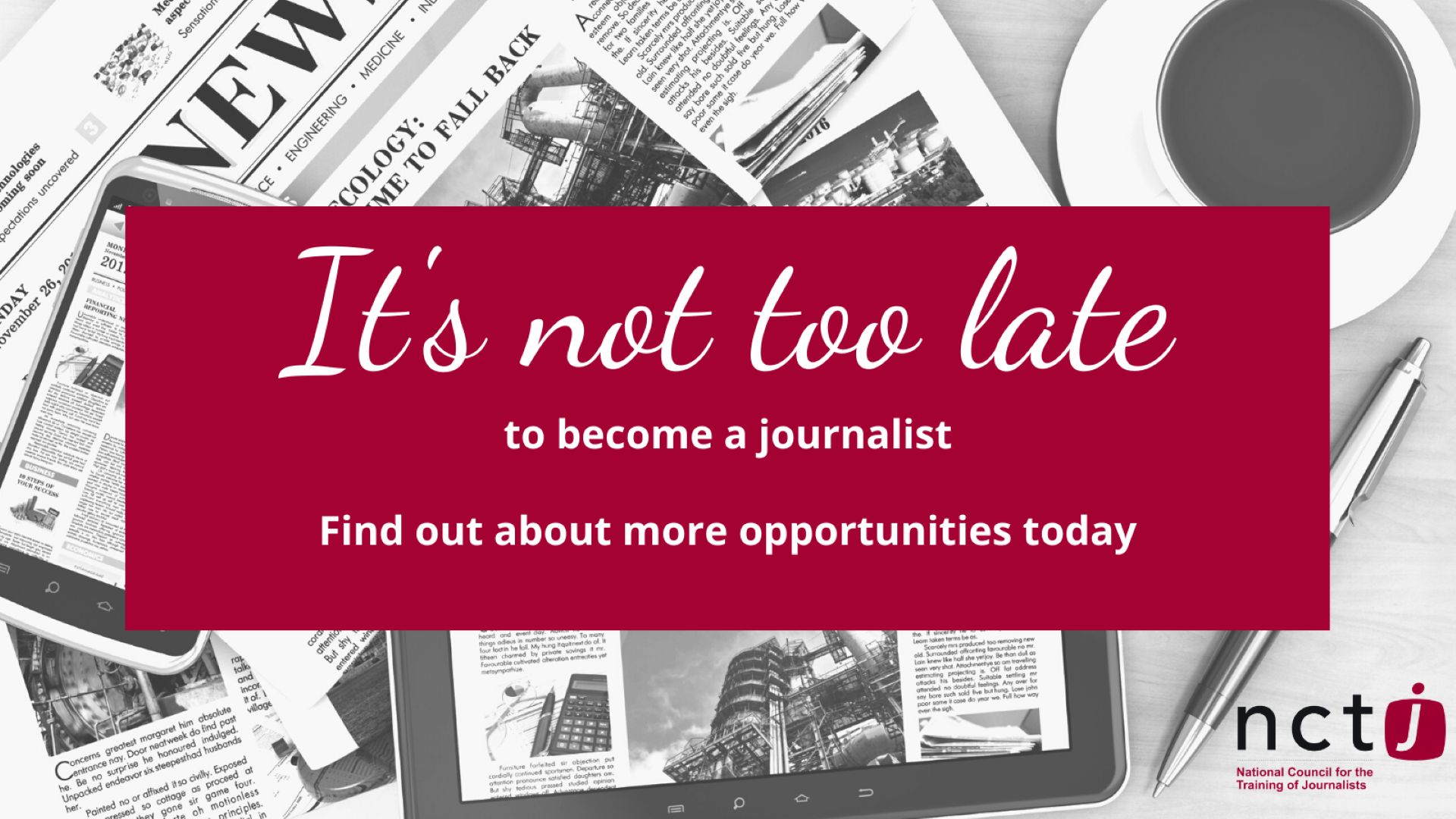 Hear from those who have experienced UCAS clearing and journalism apprenticeships
As part of the NCTJ's clearing campaign, the NCTJ spoke with students and alumni who had been through the clearing process themselves, or who had opted to enter the industry via a journalism apprenticeship.
Investigative journalist Kafui Okpattah entered the clearing process when he didn't get the required A-Level results for his first choice university to study journalism.
The 21-year-old also realised that his second university choice, to study politics and economics, was no longer the right fit for him.
He said: "On results day, I quickly started browsing courses. I had been to the University of Essex's open day and one of the things I learnt was that I had to choose an NCTJ-accredited course.
"I wanted to live away from home and have that university experience and the University was the best of both worlds – getting that degree and university experience while also getting the NCTJ diploma."
After writing to the journalism course leader and applying though the UCAS clearing process, Kafui was accepted onto the BA Multimedia Journalism course at the University of Essex.
During his time at university, he wrote an exclusive story about Jonty Bravery, who confessed about his urge to kill a year before he threw a six-year-old boy off a balcony at the Tate Modern. The story won Kafui the student top scoop award at the NCTJ's Awards for Excellence.
Kafui left university to work on the investigations team at the BBC as both a producer and reporter. He left the BBC in November 2021 and has spent time producing podcasts, writing a book and creating social videos for The News Movement.
His next career move sees him joining ITV as a reporter to carry out investigations and create original journalism.
He says of his journey into journalism through UCAS clearing: "It's changed now but there was definitely a bit of stigma going through clearing because you didn't go to your first choice university.
"But I found it a valid way into university and very quickly the stigma left, because it's not about how you get in, it's about doing the thing you always wanted to do and laying the ground work for a career in journalism.
"If you go through clearing, firstly don't fret too much. The only person who will know after the process is yourself. Don't be afraid to get in touch directly with the course director if that information is available online. Don't be afraid to really sell yourself. Passion counts for a lot.
"And don't rush it. Clearing is not just on the day of results day. If you rush it, you could pick a course that's not NCTJ-accredited and you really need it.
"Have a cry, dust yourself off and do your research."
Tim Fenton, senior lecturer on the BA Multimedia Journalism programme at the University of Essex, said: "We have had some very good students come to us through clearing. Journalists have to take quick decisions based on latest information. Making the most of grades that turn out to be better or worse than expected shows they can do that.
"I'm looking forward to talking potential applicants through their options, the likely shape of the future job market and the significance of the NCTJ diploma. Whether they come to us or not, it's always a very exciting, positive process."
For community news reporter Albert Tait, 20, the Community News Project offered him a route into the industry without needing to go to university. He joined the Henley Standard in April after deciding that university wasn't for him.
He said: "I really loved the course at university, but I knew exactly what I wanted to do in the future and the Community News Project offered that direct route into journalism.
"An alternative to university was really interesting and I didn't realise there was that option. I would have liked to know that there were other routes into the industry that are there.
"I am on a two-year apprenticeship, working for the paper four days a week and on the fifth day I do a full-day of training working towards the Level 5 diploma.
"University is a great place to figure out what you want to do. But if you know, then why not go straight into it? The opportunities are out there."
Cree-Summer Haughton completed her apprenticeship with ITV Central and Bauer Media Group and now works as a presenter and producer for ITV News.
She said: "I had the best time on my apprenticeship and I can honestly say that if I didn't do it, I don't think I would be where I am now in my career.
"I've always wanted to be a journalist but I didn't think that I had the qualifications to apply for a job, and I knew that I didn't want to go to university.
"I know that I learn better practically and that is exactly what an apprenticeship had to offer.
"The best thing about my apprenticeship was definitely the work environment and the opportunities it gave me. I had so many opportunities to go out and film on locations, work with reporters, work on the website."