Diploma in Journalism Awards presented at NCTJ Student Council
Ten NCTJ students have been presented with awards for exceptional performance in the Diploma in Journalism exams.
Ten NCTJ students have been presented with awards for exceptional performance in the Diploma in
Journalism exams.
At the NCTJ Student Council, the top-performing students across the UK were presented with their awards in front of their peers on Friday, 6 February, hosted this year by News UK in London. Award-winners received a certificate and a cheque for £250.
Four new diploma awards were introduced this year thanks to backing from HoldtheFrontPage, ITV News, the Mark Allen Group and Sky Sports News.
Anna McNay was presented with the HoldtheFrontPage award for production journalism by Paul Linford, publisher and editor of the website which provides the latest news and information about the industry and job listings. Anna said: "I'm really pleased to win this award and it is evidence of the great teaching I received at Brighton Journalist Works".
The ITV News award for broadcast journalism went to Victoria Polley for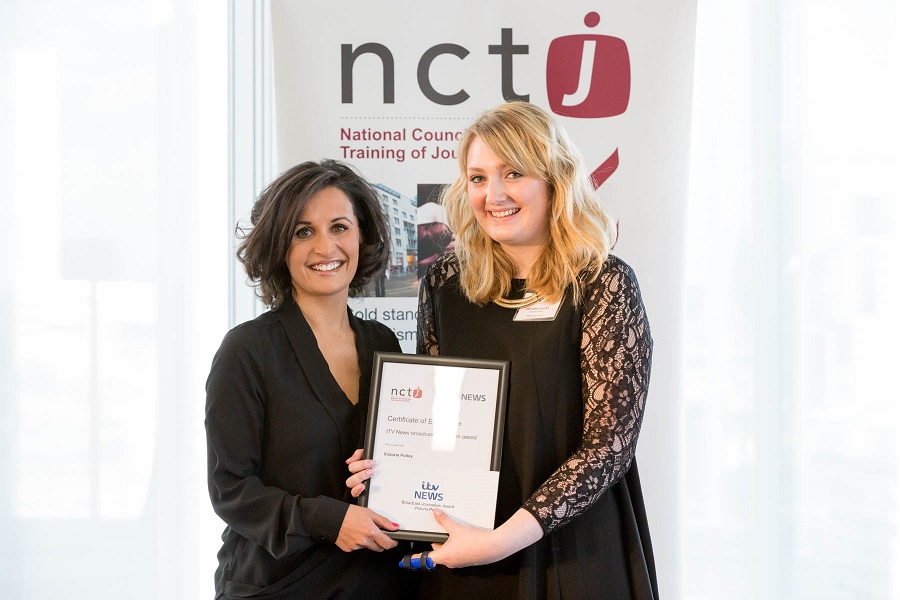 achieving the best combined result in the broadcast exams while studying at the University of Kent. She was presented her award by ITV News London broadcaster Nina Hossain. Victoria said: "I'm honoured to receive this award and I am particularly proud to be representing the Centre for Journalism where I have thoroughly enjoyed studying for my degree and NCTJ diploma."
The Mark Allen Group business of magazines award was won by Amelia Tait from Lambeth College. Representing the group was chairman Mark Allen, who's portfolio includes over 60 magazine titles and brands. Amelia said: "I'd like to thank my teacher Richard Morris for his invaluable help and guidance, as well as his dedication to thoroughly teaching us the syllabus."
The Sky Sports News award for 110/120 words per minute (wpm) shorthand went to Koel Mukherjee. Her
impressive Teeline performance combined speed with total accuracy, a quality award-presenter and executive editor Andy Cairns demands of his trainees: those applying for work experience and the graduate scheme at Sky Sports News are expected to have achieved 100 wpm shorthand. Koel achieved a speed of 110 words per minute with 100 per cent accuracy while on course at News Associates, London.
She said: "To students slogging through it at the moment I'd repeat the old cliches – keep practising, don't give up, it genuinely does get there. You might reach a point where you feel like you're not improving (I was stuck at 70 for ages), but I promise you will."
There was also a broad range of support for established diploma awards, with the return of previous sponsors: Archant, Johnston Press, Mustard TV, Oxford University Press and the Society of Editors.
Caroline Christie from Lambeth College took home the Archant reporting award. She offered useful advice saying: "The reporting exam takes a lot of practice and a clear head. I don't think anything passes right off the bat, and it's easy to trip yourself up, so make sure you're calm and think things through."
The Johnston Press award for court reporting went to former City of
Wolverhampton student, James Forrest. Working as a reporter for the Worcester News, he said: "I'm absolutely delighted to have won this award and would like to thank my tutors for their support."
Sophie Merritt was delighted to win the Mustard TV award for videojournalism. She is in her final year at the University of Portsmouth and said: "I feel really grateful to be winning this award as a lot of time and effort went into creating my coursework and developing my editing skills for the exam."
The Oxford University Press media law award went to Rachael Venables. The University of Sheffield graduate said: "I was really surprised – but thrilled – to get this award! I loved Mark Hanna's law module, as it was so different from anything I'd learned at University before."
Charlie Taverner won the second award sponsored by Oxford University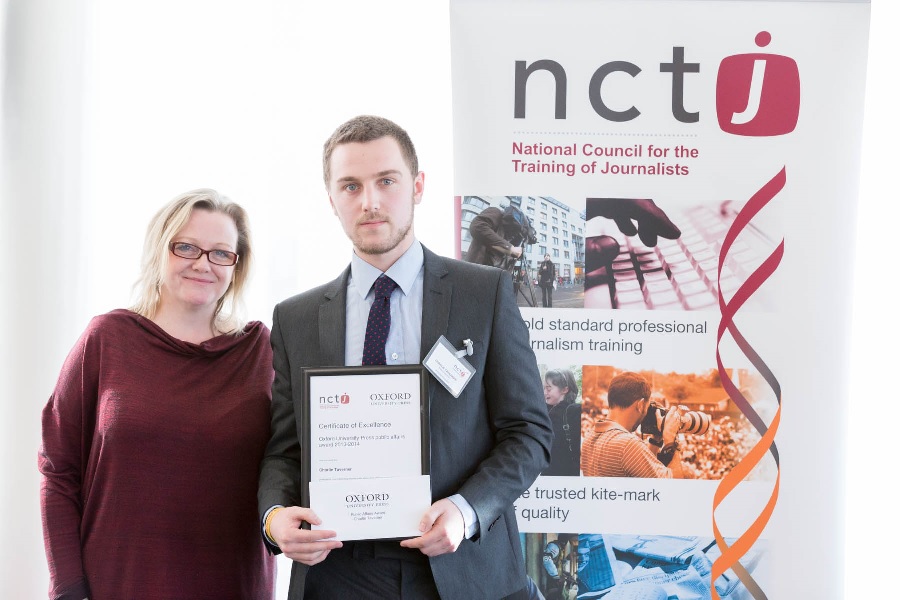 Press for public affairs. He put his success down to his interest in politics while studying at Press Association in Newcastle.
Charlie said: "Studying for public affairs did involve a lot of grind: there are plenty of organisations, structures and laws to remember. But it's more fun if you're a bit of a politics geek, reading all the papers and newsfeeds every day to put everything you learn into context. Plus, I'm sure up-to-date references make your exam answers a lot more interesting to read."
Daniel Woolfson won the Society of Editors' award for an impeccable performance in the 100 wpm shorthand exam during his NCTJ training at Brighton Journalist Works. He said: "I'm thrilled to have won the award – I found learning shorthand pretty fun and it's proven to be incredibly useful. Advice for those taking the exam is: don't stress!"