Community reporter lands first splash on primary school's 'lifeline' initiative
Every journalist remembers the thrill of their first front-page splash.
For community news reporters, an exclusive story that lands that front page spot is also a testament to their local connections and commitment to getting untold voices heard.
Callum McCormack was a month into his community reporter role at Fife Free Press when he secured his first front page, showcasing how one primary school is committed to supporting the community during the cost-of-living crisis.
The 30-year-old heard from parents via Facebook that Fair Isle Primary School in Kirkcaldy was operating a community shop, with staff and parents managing donations by supermarkets, Amazon and independent businesses.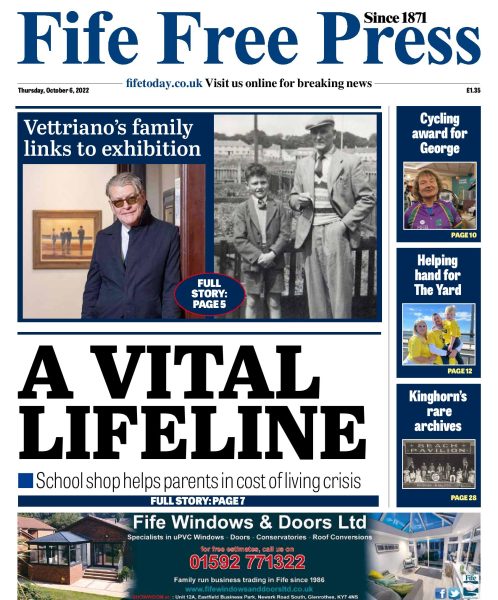 The initiative was hailed "a vital lifeline" by the newspaper by providing families with clothing, cleaning products and food for free or a small donation in response to the increased cost of living.
Callum was invited down to the community shop's open day, and was keen to get involved and meet all the main players in the operation.
He said: "There was a presentation about what the shop was about and how they got to that point.
"There were mostly volunteers there, as well as people who had been contributing, like the butchers and takeaway shops, and parents who are supporting the shop.
"I spoke to them about why they were doing it, and got some pictures. The big thing was about taking down that stigma.
"The shop started at the start of this term and this was the first time we had covered it.
"I wasn't expecting it to make the front page. I found out when I went to retweet the article and I assumed somebody else had written a similar article – I really wasn't expecting it."
Callum, who is from West Lothian, joined the Fife Free Press as part of the Community News Project, a partnership between the NCTJ, Meta and 23 regional publishers to support journalists to report on underserved communities. He is studying for his NCTJ Diploma in Journalism with Glasgow Clyde College.
He said about his role: "I am absolutely loving it. The area I am covering is a really great area to work in.
"Kirkcaldy is a really deprived area of Scotland and there are so many charities and people who want to make it a better area. I am doing a lot of stories about people helping people, which is fantastic.
"Being a community news reporter is a fantastic opportunity to use journalism as a way of highlighting the challenges that are in communities around the UK. It's given me the opportunity to pursue some of the stories and issues that are important to the community I report on.
"From a professional perspective, the community news reporter is an unbelievable opportunity to learn on the job. It has also given me an opportunity that I didn't think I would get."
Allan Crow, editor of the Fife Free Press, said: "It was great to see Callum get his first front page splash – the costs of living crisis is the single biggest topic right now, and the story showcased how one school is helping its community.
"That dovetails perfectly with his remit. He also took the time to go to the event at the school to make introductions and get the story – working from home it is all too easy to do everything by phone or email, but there is still no substitute for getting out and about, and Callum is keen to do that and get to know more about his patch, and the organisations at the heart of supporting the community.
"We have a major Christmas appeal coming up with one such organisation, and he will be a key player for us as we look to generate support for up to 2,000 families across our town."