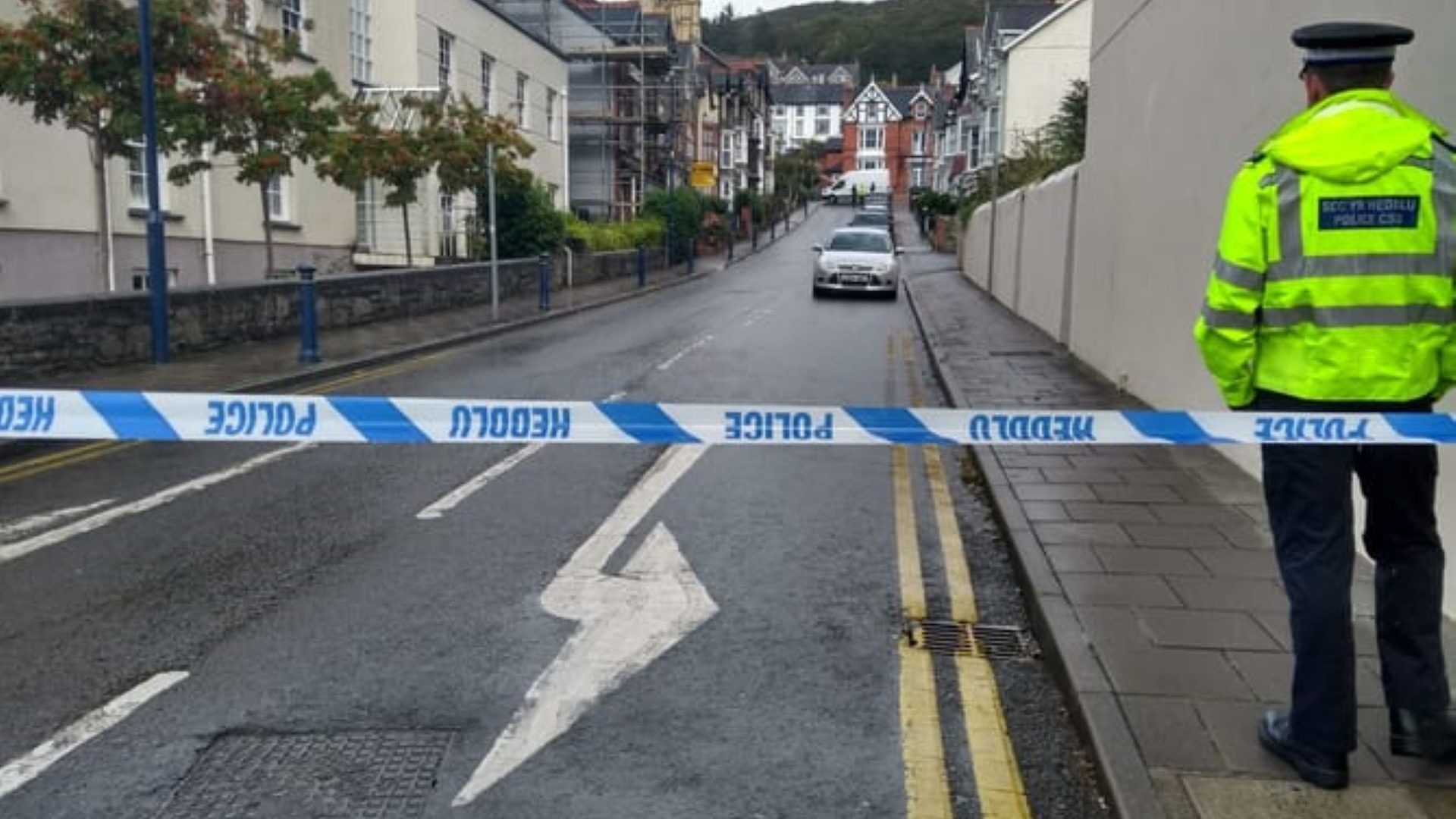 Community reporter in police evacuation only days into the job
A community reporter found himself in the middle of a breaking news story when police evacuated his street due to concerns about explosives.
Alex Bowen, 22, was barely two weeks into his role as a community reporter at Cambrian News when he answered the door to a police officer, who told him to pack essentials and get out of the house.
Emergency services had closed his street – Queen's Road in Aberystwyth – and the surrounding area, after a man had been arrested the night before on suspicion of possessing an explosive substance.
Alex and his girlfriend Ella, as well as 40 other neighbouring residents, were sent to Plascrug Leisure Centre in Aberystwyth, which acted as a safe space for all evacuees. They were greeted by members of the British Red Cross.
Alex was soon in communication with the news desk at Cambrian News and sent across pictures and videos from the road closure, as well as images from inside the evacuation centre.
He said: "It was bizarrely surreal. They set the place up within half-an-hour. It was so well organised and they were so empathetic.
"There were trucks showing up with food. They were fully prepared for it to last.
"It was definitely exciting and by that point, the journalist aspect took over.
"I was walking around the evacuation centre interviewing people to get their experience of it. I realised there was an opportunity because I was at the place with everyone. It gave me something to focus on.
"I spoke to one guy who was from South Africa. He was really interesting because he lived there during apartheid and he was saying that they often had to do drills, but nothing actually happened. This was the first time he had been involved in an evacuation."
During the evacuation, which lasted four to five hours while explosives experts made the area safe, Alex's phone died – losing his connection to the newsroom.
He said: "I used Ella's phone after that to keep in touch. I was emailing off her personal email. At that point, I was mainly sending pictures and videos.
"This happened on the same day as the Queen's death as well, which definitely added to how surreal the day was."
His coverage of the evacuation also included a first-person piece in the newspaper about his experience.
Alex joined the Cambrian News as part of the Community News Project (CNP), a partnership between the NCTJ, Meta and 23 regional publishers to support journalists to report on underserved communities. He said the job "landed in his lap".
He said: "I was looking online and I thought the job just sounded perfect for me. I was working as a cleaner and I wanted a rewarding career.
"I had studied philosophy at university and I had always wanted to go into journalism and had looked into NCTJ-accredited MA courses."
He is studying for the NCTJ's Diploma in Journalism qualification remotely with City of Portsmouth College.
He said: "It was a huge thing for me that I could study for the diploma qualification while on the job. It's been amazing so far.
"It feels very practical to the job I am doing."
Mick O'Reilly, editor of Cambrian News, said: "How apt, a community news reporter right in the thick of things — a community evacuation.
"It was a big story, fast moving. And Alex was about a week into the job and one of those evacuated.
"He shot video and photos until his phone died. Then used his girlfriend's and framed a piece from right inside the centre where those evacuated were taken too.
"Talk about being thrown in the deep end. He was. And came up swimming.
"We even had a first-person piece from him to add to our coverage in print. Online, the evacuation package got close to 30,000 hits – and that was the same day as the Queen died. Good work all round."