Community reporter describes his first role in journalism covering LGBTQ+ stories in Wales as "a dream come true"
A reporter has said it has been a "dream come true" to showcase real stories from people in Wales' LGBTQ+ community as he marks the end of his time in the Community News Project.
A reporter has said it has been a "dream come true" to showcase real stories from people in Wales' LGBTQ+ community as he marks the end of his time in the Community News Project.
As Joe Ali, 25, embarks on a new role with Pink News, he has reflected on the start of his career in journalism as a community reporter for Wales Online.
Joe, who describes himself as queer, said he feels proud for helping his newsroom build bridges with marginalised communities.
He said: "The brilliant thing about the community reporter scheme is that we had the chance to sell the patch we wanted to serve.
"When I was having conversations with my editors, I told them I wanted to showcase the real LGBTQ+ community and go beyond the Pride events that happen throughout the year.
"We really have a chance to present people's stories and I think that's really come across in my work.
"That's what I'm really proud of – helping the publication to build bridges with a community that has suffered a lot in the past from mainstream media outlets."
It was thanks to his connections with the LGBTQ+ community in Wales that led Joe to receive a Reach PLC editorial award.
The accolade recognised Joe's "vulnerable account" of young transgender woman Alia's experiences of conversion therapy when growing up in Cardiff.
Joe met Alia when covering the successes of the Welsh Ballroom Community.
He said: "The Welsh Ballroom Community is specific to marginalised communities in the LGBTQ+ community. I was covering how it has grown so much and Alia was there.
"We were interviewing her about ballroom specifically, and once the cameras were off, she spoke to me honestly about her experience growing up being transgender and that she had been neglected by her family. She said she had found her family and tribe of people through that community.
"I asked her if she was comfortable bringing awareness about conversion therapy, because a lot of people don't want to relive it. But she was a rare case of someone who was willing to have an open conversation."
Joe arranged to meet Alia later over coffee and then had multiple conversations with her about what she was comfortable talking about.
He then self-shot a video of him talking to Alia in her own home, helping her to open up about her experiences.
He said: "It was an honest, unfiltered account of what she has been through, and it came really naturally.
"If it wasn't just me and her, I don't think she would have opened up and there wouldn't have been that connection.
"I related to her as an LGBTQ+ person. We had shared experiences and I made that apparent.
"For me the reason it worked was that I was just myself and by having those coffees and chats with her beforehand, we developed this trusting friendship."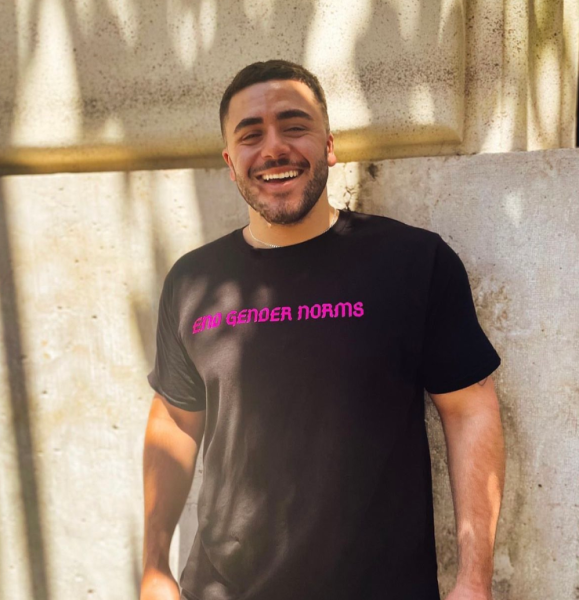 Joe thanked his editors for allowing him to have free rein with the piece and helping him to develop his broadcast journalism skills by shooting the package and putting it together himself.
Joe said it "made so much sense" for him to join the Community News Project in June 2020 after studying journalism at university.
As his degree wasn't accredited by the NCTJ, he was also able to study for and complete the NCTJ diploma while on the Community News Project scheme.
He said: "All I wanted to do was to be an LGBTQ+ journalist. I applied for the community news reporter position as it made so much sense for me.
"It was my first job in journalism and it was a dream come true. It's enabled me to get those skills to report on the LGBTQ+ community and to work on stories that are really helpful and beneficial to that community."
Audience and content director Helen Dalby, who oversees the training and development of Reach's community reporters, described Joe's story as "a vulnerable account of a young transgender woman from Cardiff and her experience of conversion therapy and fleeing her family home to find happiness in herself".
She said: "It was written with great care, compassion and sensitivity, which are hallmarks of Joe's approach during his time as a community reporter at Reach.
"Joe has shown through his role the importance of bringing stories from traditionally under-represented communities to light and we're glad to have been able to recognise and celebrate his hard work through our Editorial Awards.
"We wish Joe every success in his future career."