Community news reporters learn cutting-edge social media skills at three-day Meta bootcamp
Community reporters have learnt cutting-edge skills and social media tools for news-gathering and promotion at a bootcamp run by Meta.
Reporters recruited through the Community News Project were invited to a three-day virtual bootcamp, which ended today, to grow their knowledge and understanding in a range of subjects, inclu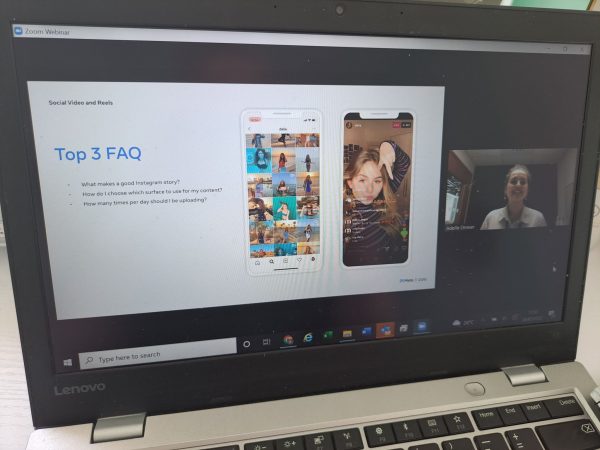 ding video production, audience development and journalism safety.
The Community News Project was launched in 2019 and is a partnership between the NCTJ, Meta (formerly Facebook) and 23 regional publishers, and aims to support quality local journalism and improve the diversity of UK newsrooms.
Following the scheme's expansion this year, there are now up to 100 community reporter roles in total across the UK.
The community reporters who joined the bootcamp were given training to equip them with the skills and know-how to use digital tools – including Facebook and Instagram – successfully to grow their audience, produce social videos and find stories.
Community reporters were also given tips on how to remain safe online and the importance of fact-checking.
The bootcamp kicked off with a talk by Michael Pearson, digital development editor at Reach PLC, who gave advice on how to create a great social video. Tips included video length, the time the video is posted, aspect ratio, voice overs, captions and subject matter.
He said: "In the first five seconds, you should have something that really captures the eyes of the people, whether that's a really emotive part of an interview or a great piece of footage."
Community reporters were also given the opportunity to hear from Tatton Spiller, who runs Simple Politics on Instagram, about his social media strategy and his journey to creating his successful brand. The Economist's Kevin Young talked about audience development, and sessions on how to interact with communities on Facebook groups were led by staff at Meta.
The final day of the bootcamp featured a discussion with community reporter alumni Naomi de Souza, who worked at Coventry Live, and Oliver Kemp, who was based at Kent Online. Both have now taken the next steps in their career, with Naomi taking up a role at Birmingham Live, and Oliver at The Bureau for Investigative Journalism.
They talked about the challenges they faced when joining the scheme in 2019, offered advice for how to connect with communities, and gave tips on how to create multimedia content and dealing with negative comments 'below the line'.
Naomi said: "It's a really rare opportunity because you are the person in the newsroom to report on those communities. You have time to go to community events and establish yourself.
"Make sure you engage with communities on Facebook – make your bio really open and welcoming. Don't ever feel guilty for prioritising time to build new relationships."
Oliver added: "What I would do after having a conversation with someone, is put a note in my diary for a month's time and ring them back to check in.
"If you can establish those connections and show you care about making those connections, then you can make relationships far quicker. You are not constrained to the same issues that other reporters are, so make the most of it."
Annette Beveridge, CNP reporter at the Salisbury Journal, attended this week's bootcamp and said: "I found it really inspirational and have come away with lots of ideas on how to hopefully boost readership in the Salisbury Journal. I have also learned a lot about the importance of taking a multi-media approach so will take the plunge.
"I have only been with the Journal since March, but I feel that I am an important part of the team already and to be able to learn through the NCTJ is an amazing experience."
Will Gore, head of partnerships and projects at the NCTJ, said: "This week's bootcamp has been fantastic, and I was particularly pleased that for the first time we had a session led by CNP alumni.
"Seeing those who have now taken onwards steps in their career passing on tips and advice to current community reporters just shows how this brilliant project has matured."
Victoria Gorgs, Strategic Partner Manager, UK, Meta, said: "It has been fantastic to host the CNP reporters for our latest journalism bootcamp. In the past three days we have covered everything from video best practices to combating misinformation to journalism safety and overall best practice.
"Throughout the whole experience it has been wonderful to see the engagement from reporters – asking great questions, trying out new ideas and really getting stuck in to the work.
"We can't wait to see how they will take their new skills back to their newsrooms for even more great news stories and reporting."