Claire Prosser and Thomas Read bursaries presented at Journalism Diversity Fund celebratory event
Three Journalism Diversity Fund (JDF) recipients were presented with bursaries today as part of the annual celebratory event.
Three Journalism Diversity Fund (JDF) recipients were presented with bursaries today as part of the annual celebratory event.
The awards presentation, held at Bloomberg's offices in London, followed a seminar discussing diversity in journalism.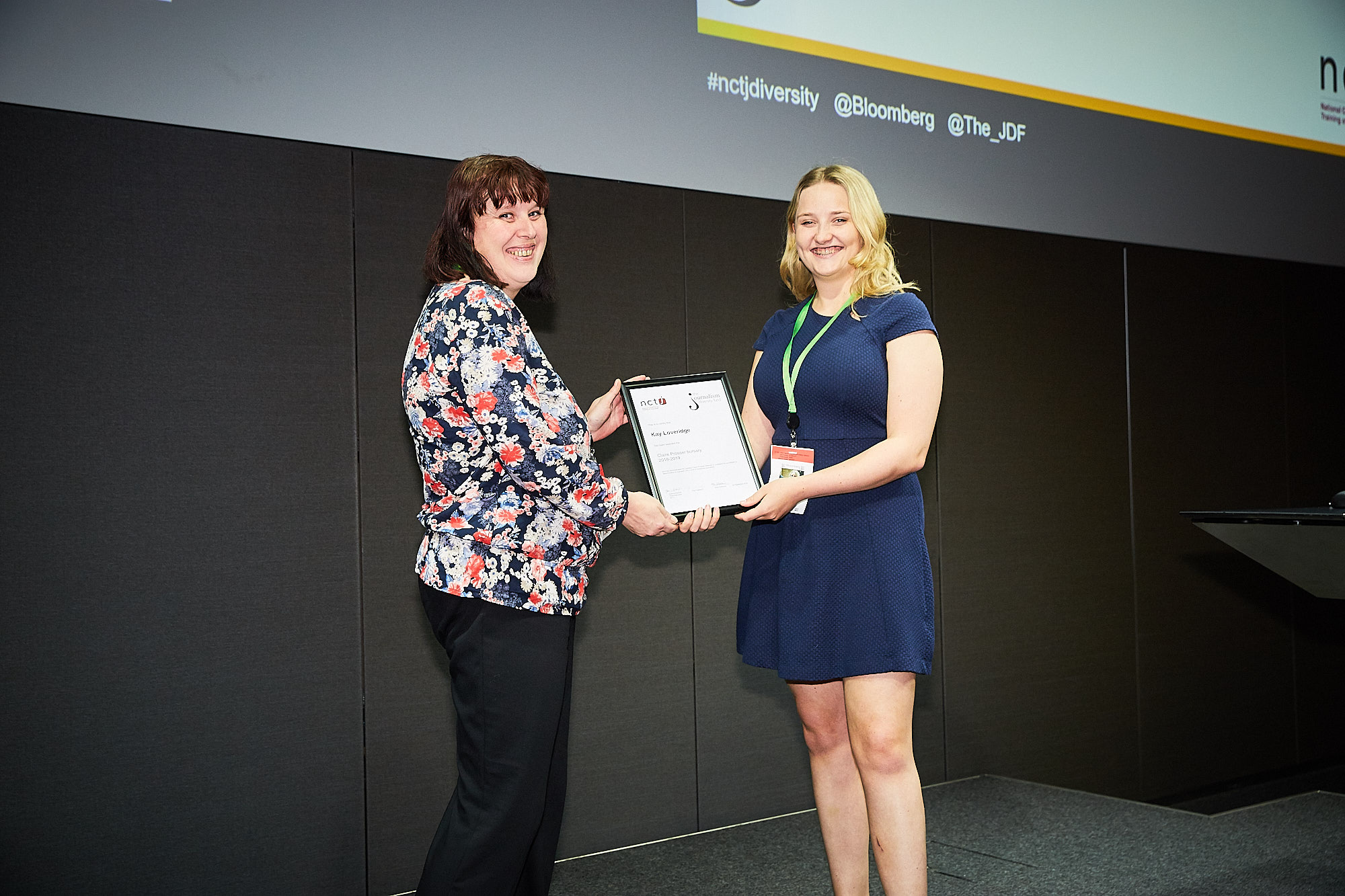 Kay Loveridge was awarded this year's Claire Prosser bursary, which helps people from all walks of life into broadcast and digital careers. It was set up in the memory of founder and former director of the BBC Journalism Trainee Scheme, Claire Prosser, who died suddenly in 2014.
In the words of her family, Claire believed in equality of opportunity, and that if someone wanted the chance to become a journalist, they should be able to do so.
Bursary recipient Kay has been a volunteer for Phoenix Community radio in Halifax for five years and was recently a finalist in the ITV and Media Trust's Breaking into News scheme.
Alongside a financial contribution to her studies at Leeds Trinity University, Kay will also participate in work placements with BBC News, Press Association and Wire Free Productions.
The award was presented by Claire's daughter, Ellen Clabburn.
Two recipients were also presented with the Thomas Read bursary, which is awarded each year to a Journalism Diversity Fund recipient who has a long-term illness, health problem or disability.
The bursary was set up in the memory of the Sky Sports News journalist Thomas Read, who died unexpectedly in 2015, aged 25.
Thomas was an inspirational young journalist who, in spite of his cerebral palsy, achieved a substantial amount in the field of journalism in a short space of time.
Josephine Fay and Nicola Kenton, who will both be studying at News Associates London, were presented with their awards by Thomas' brother, Jamie Read.
As well as receiving financial contributions from the Thomas Read Foundation, both recipients will have the opportunity to participate in a work placement with Sky Sports News.
The celebratory event, which took place after a diversity in journalism seminar, also welcomed previous Thomas Read bursary recipient Connor Parker to the stage to address delegates.
Connor, who was awarded the bursary in 2017 to study at the University of Sheffield, now works as an intern reporter at HuffPost UK and told the audience the JDF has changed his life.
He said: "The JDF and the Thomas Read bursary paid for me to study as well as providing all the support I could ask for, which meant I had a fantastic year that taught me everything I needed to know and more.
"It's so important to have diversity in the journalism industry – because I have a hidden disability and I'm from the north of England, I don't fit the mould of the stereotypical London journalist, but because of that I can speak about those topics that define my identity, I can bring that voice to the table."
Former JDF recipient Rianna Croxford, who is a broadcast journalist at BBC Radio 4 and World Service, also gave an address.
She said: "There's no denying that journalism remains a socially and ethnically exclusive industry. This is why the Journalism Diversity Fund is so crucial. I would not be standing here as a qualified NCTJ journalist without it."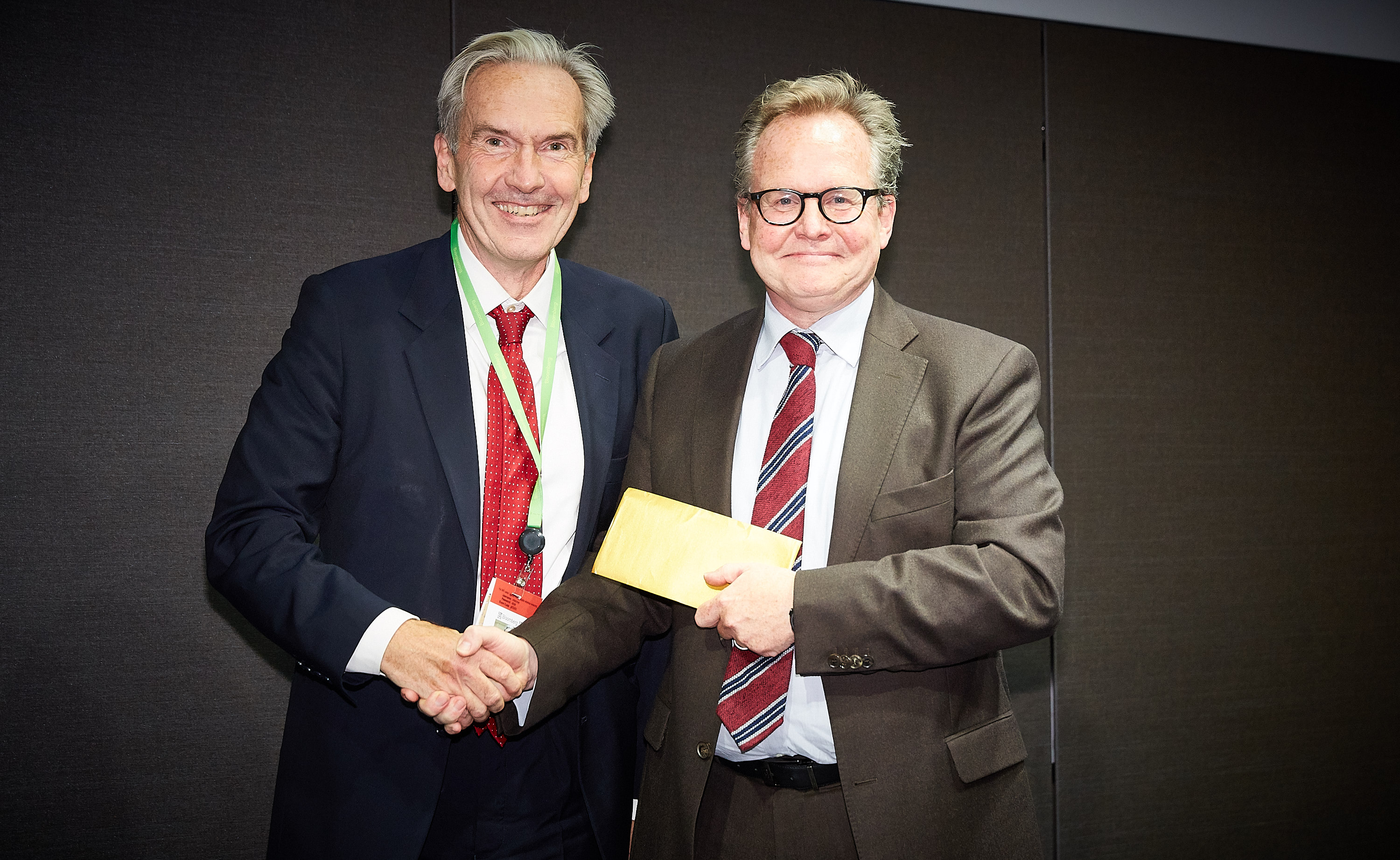 The event also welcomed Neil O'Brien, commercial director of NLA media access, on stage to present their annual donation to the Journalism Diversity Fund.
The cheque for £100,000 was presented to Kim Fletcher, chairman of the NCTJ, who said: "This generous donation, which has been made annually since 2005, is very welcome and never taken for granted so please pass on our thanks to your chairman, Tim Brooks, chief executive, Henry Jones, and all the board members and NLA team."