Balanced reporting and tackling social mobility on the agenda at NCTJ diversity conference
Tackling social mobility issues and how to ensure fairness in reporting were on the agenda at the NCTJ's equality, diversity and inclusion conference.
Tackling social mobility issues and how to ensure fairness in reporting were on the agenda at the NCTJ's equality, diversity and inclusion conference.
More than 100 journalists, editors, educators and students attended today's event, which took place at Reuters in London.
The conference also celebrated the work of the Journalism Diversity Fund, which has awarded 340 bursaries to fund the journalism training of diverse students since its launch in 2005.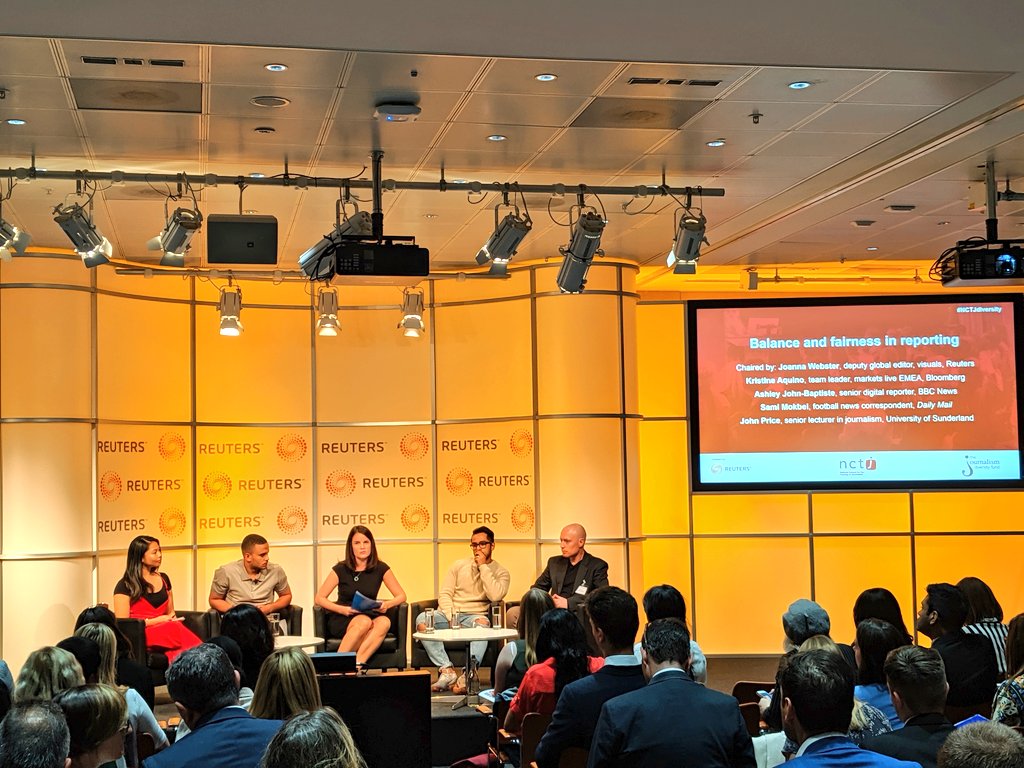 The first panel, chaired by Joanna Webster, deputy global editor for visuals at Reuters, discussed the importance of balance and fairness in reporting, particularly regarding BAME voices and cultures.
Sami Mokbel, football news correspondent at the Daily Mail, said: "I think the most important thing is to have more BAME voices as reporters and on the desks.
"We are making steps as an organisation to ensure that we have more prevalent BAME voices, but the mission is far from over."
John Price, senior lecturer in journalism at the University of Sunderland, said: "It's not enough to improve the diversity in newsrooms, it's about changing the culture in newsrooms.
"We need to change the unconscious bias and the language we use, and not just at reporter level, but right the way through the organisation."
The panel also featured Kristine Aquino, team leader for markets live EMEA at Bloomberg, and Ashley John-Baptiste, senior digital reporter at BBC News.
The second panel discussion looked at how to tackle social mobility issues, including how unpaid work placements can be a barrier to entering the industry.
Claire Sanderson, editor-in-chief of Women's Health magazine, noted how there is a noticeable difference in confidence at interviews between people from different socioeconomic backgrounds.
She suggested more should be done to help those with low confidence before they are interviewed for a job.
As well as getting diverse journalists into newsrooms, the panel also discussed the importance of retaining them.
Dan Wright, director of coverage EMEA at CNN International, said: "We talk a lot about entry level, but how do we develop the diverse staff we are bringing in?
"We are looking at the barriers to promotion and shattering those glass ceilings by breaking the unconscious bias and to help promotion within."
Priscilla Baffour, global head of diversity and inclusion at the Financial Times, and Toby Granville, editorial development director at Newsquest, were also on the panel.
Alison Gow, editor-in-chief (digital) at Reach plc, spoke about the opportunities diversity and change creates for journalism, and the culture of newsrooms.
Attendees also heard from former apprentice Dan Wright, who has risen through the ranks at KM Group and is now news editor at the Kentish Express.
Dame Frances Cairncross, author of this year's Cairncross Review into sustainable, high-quality journalism in the UK, spoke with NCTJ chairman Kim Fletcher in the keynote session.
She said: "There are aspects of news that really are in the public interest and make democracy work, such as reporting on high court, magistrates court, school boards and hospital boards.
"These bodies are part of the fabric of democracy and we need trained reporters to write about this essential area."