Awards for Excellence shine a light on quality journalism
Eleven talented journalists and photographers have been presented with their NCTJ Awards for Excellence sponsored by NFL UK at the Journalism Skills Conference in Sheffield on Thursday, 27 November.
Eleven talented journalists and photographers have been presented with their NCTJ Awards for Excellence sponsored by NFL UK at the Journalism Skills Conference in Sheffield on Thursday, 27 November.
BBC sports presenter and former University of Sheffield student Dan Walker announced the winning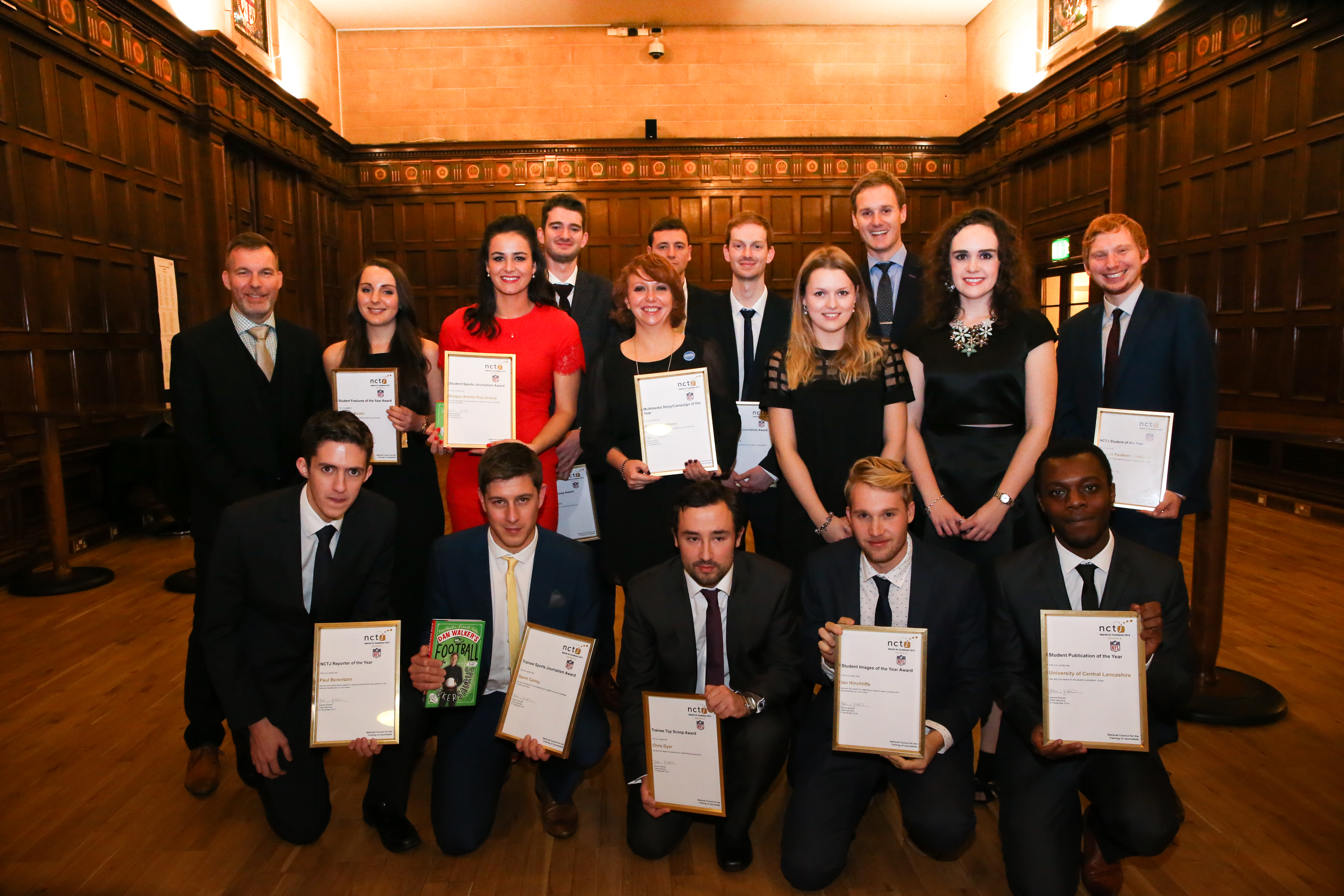 students and trainees in front of a host of journalists, editors and tutors at the annual dinner held in Sheffield City Hall.
The Football Focus presenter said: "All of the winners have impressed our expert judges with the quality of their work. Indeed, everyone who was shortlisted in this year's awards should be very proud of their achievements."
This was the first year NFL UK sponsored the awards with categories in news journalism; sports journalism; features; top scoop/exclusive; images; multimedia story/campaign and best student publication categories.
Two performance awards, NCTJ student journalist of the year and NCTJ trainee of the year, were also presented.
David Tossell, director of public affairs, NFL international said: "Congratulations to all the NCTJ Awards for Excellence winners. Your hard work and dedication to this great profession will stand you all in good stead as you advance through your careers and I look forward to following your progress."
Douglas Faulkner-Gawlinksi, who recently completed a fast-track course in multimedia journalism at Press Association Training Newcastle, won this year's student journalist of the year award. Douglas passed all his NCTJ exams in the first sitting with top grades and achieved 100 wpm shorthand. He has been working at the Eastern Daily Press in Norfolk where he is working towards gaining the national qualification for journalists (NQJ).
Douglas said: "I am delighted and a bit lost for words, which isn't very good for a journalist."
The NCTJ reporter of the year award went to Paul Berentzen who impressively scooped three out of the four awards available for exceptional performance in the July NQJ exams. Paul studied his diploma at News Associates in Manchester and has been working as a crime reporter at the Blackpool Gazette.
Ben Fishwick, who studied the one-year Diploma in Journalism at Highbury College and now works at The News in Portsmouth, was the winner of the student news journalism award. Ben was praised for his entries with the panel commenting he had "sourced, researched and written the stories in the manner of a well-seasoned reporter".
Jonathan Robinson, a reporter at the Lancashire Telegraph, bagged the trainee news journalism award. He said: "I never expected to even be nominated let alone win, hopefully I can continue to improve my skills."
The winner of the student sports journalism award was Brogan Amelia Kay-Jessop, who recently completed the NCTJ-accredited BA (Hons) at the University of Portsmouth and has been working at The Guardian. Brogan captivated the judges with her articles which centre on "survivors" and their sporting careers. She has a particular passion for Arsenal F.C. and hopes to work for the north London club in the future.
Gavin Caney, sports journalist at the Eastern Daily Press, was awarded the trainee sports journalism award. Gavin recently achieved the NQJ and felt that his former role at the Cambs Times and Wisbech Standard helped him to become a more versatile reporter.
The student features award went to Rosanna Austin who brought her words to life with astounding case studies, according to the panel of judges. Rosanna has already secured her dream job as a breakfast bulletin editor for Radio Aire in Leeds but hopes to uncover bigger and better exclusive stories for her listeners.
Louis Emanuel, who currently works for the Bristol Post won the trainee features award. The judges were impressed by his feature exploring the cultural pressures surrounding Khat, a legal high that was soon to be changed to a Class C drug.
The top scoop/exclusive award winners were Nottingham Trent University student Thomas Jenkin, and Essex Chronicle trainee reporter, Chris Dyer. The judges said Thomas' exclusive on drunken England cricketer, Gary Balance, which was picked up by national newspapers was a national "genuine national scoop". They also classed Chris as a "runaway winner" in this category.
The student image award went to Sheffield College student Ian Hinchcliffe who is now working for the Southern Daily Echo. The judges were intrigued by his photographs of a debauched Grand National, a ritualistic pagan event lit only by a fire and a mourner outside the Leeds school after Anne Maguire was stabbed.
Catrina Cochrane, a Glasgow Clyde College student, was awarded the multimedia story/campaign of the year for her apolitical project, Dearest Scotland. She aimed to give everyone the opportunity to share their vision on the future of Scotland in a crucial year for the country.
The award for best student publication was presented to the University of Central Lancashire. The magazine, Amigo, was produced to help children learn Spanish at Key Stage 2. The judges said: "For sheer originality and quality of ideas, content and design, AMIGO is brilliant, one of the most innovative ideas that I have come across from a student body. The most impressive aspect is that the AMIGO team has really got inside the heads of seven to 11-year-old pupils, without patronising or talking down to its audience."